Is data working for you?
Or making you work?
Be data-driven everyday, without the data-driven headaches.
Brilliant analytics
Our enriched data, flexible technology and integrated service model help you do more with health data.
Ask questions
Get answers, with context
Drive deliberate and decisive actions
Help people on their path to better health
Use Enlight™ to guide the way forward.
Learn more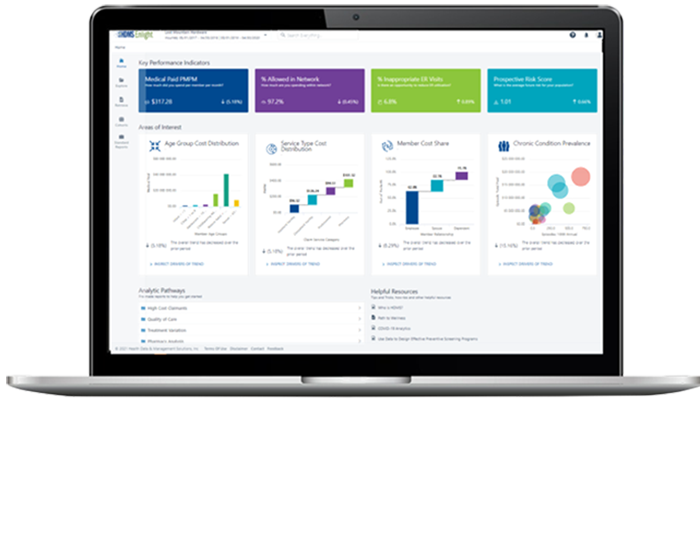 Learn how we help organizations like yours.
Trying to create affordable, convenient, equitable and engaging healthcare?
Let's partner. We'll take care of your data and analytic needs.
Employers
Cost-effective well-being
Health Plans
Innovative plans and services
Providers
Whole health, lower risk
Consultants & Brokers
Deep insights and predictions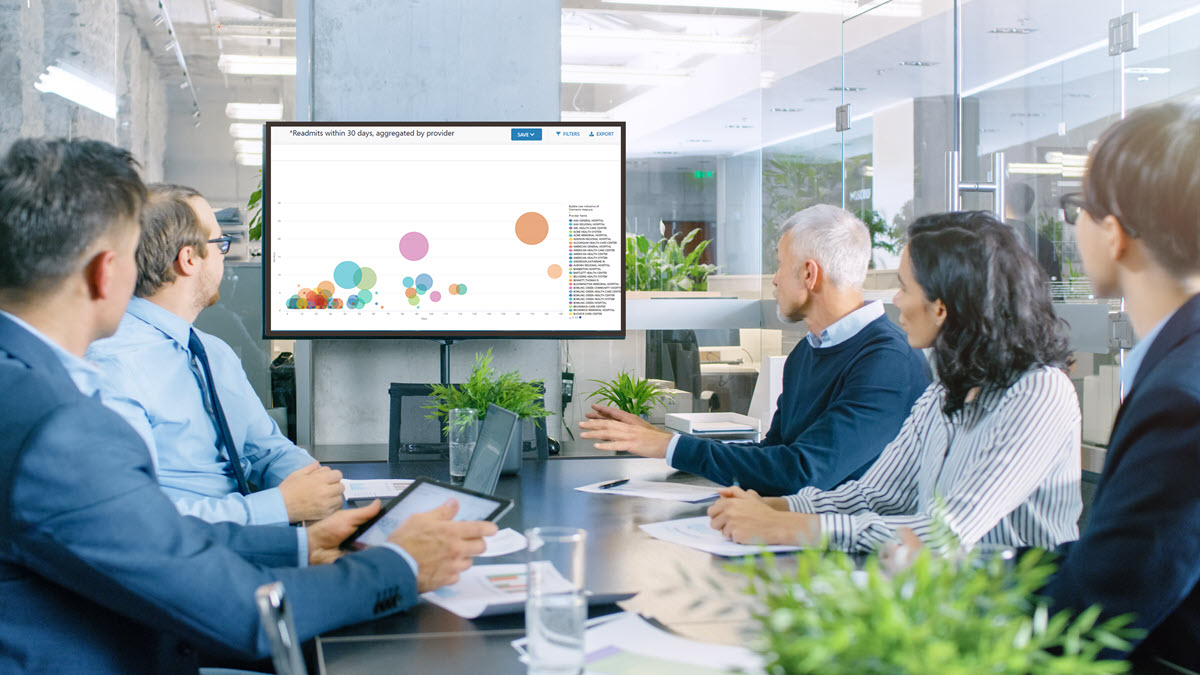 We make you better.
So you can do the really awesome stuff.
Clients start with us because our technology quickly delivers connected health answers. Who doesn't want enhanced data, integrated from multiple sources?
Clients stay with us because they are better at their job when we deal with data for them. They spend more time using data.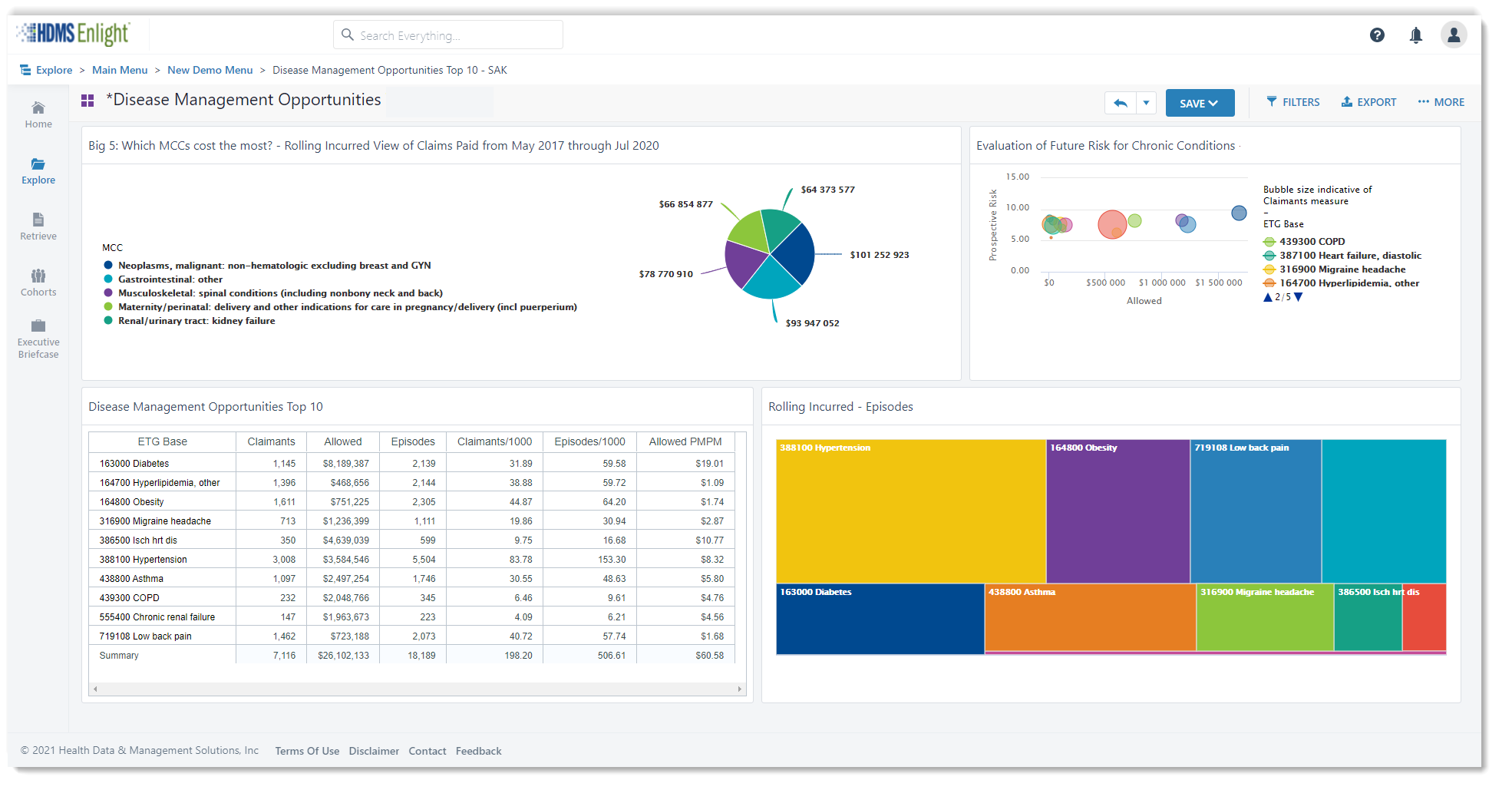 Everything you need.
Fast flexible analytics, for right now.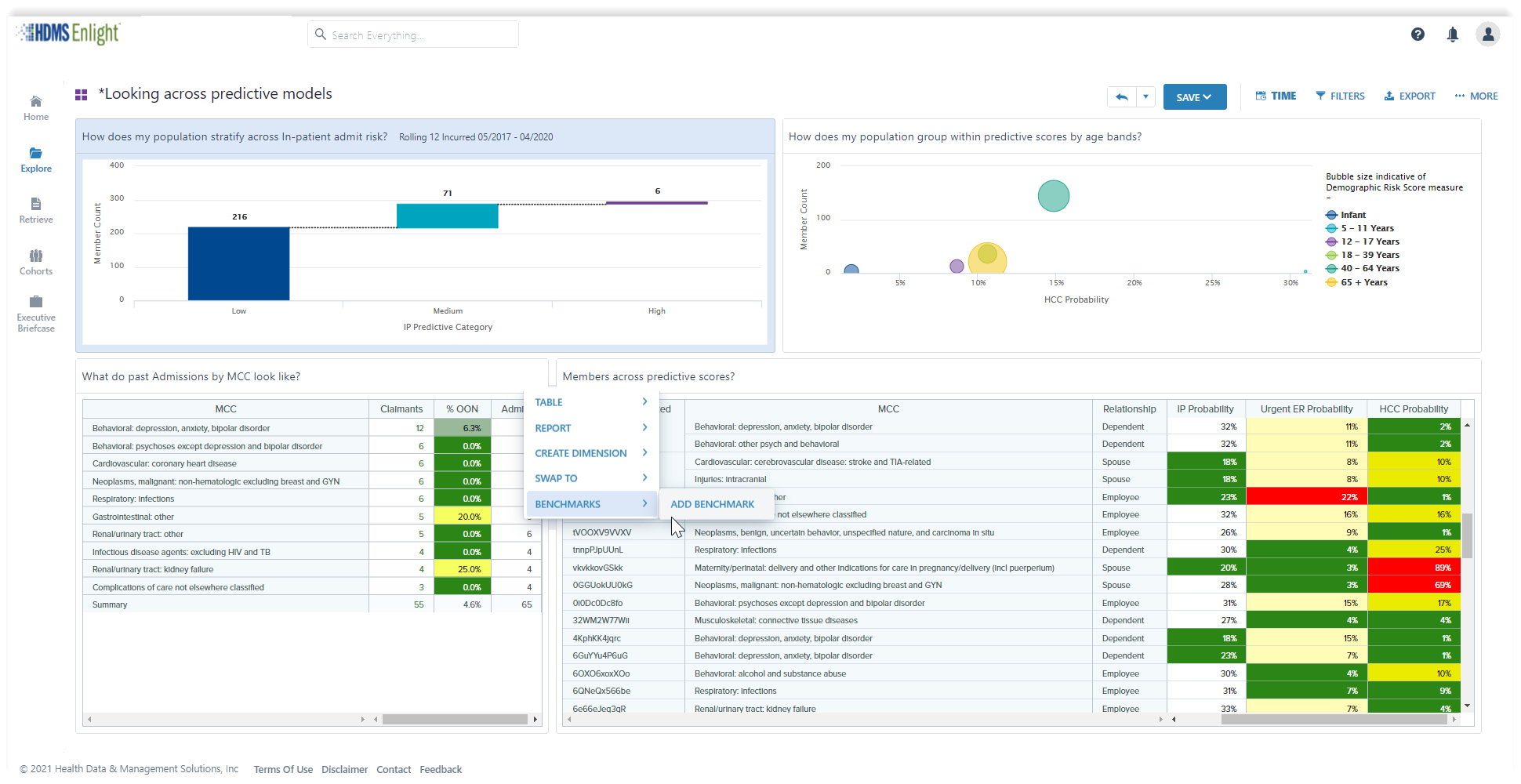 Things you didn't know you want.
Insights that accelerate your vision.
Technology solutions
Read about the technical components of our health data & analytics solutions
High-value robust analytic content, out-of-the-box is our happy place.
We could stay and play here all day. But why stop at sophisticated analytics at your fingertips? Why not have robust benchmarks and additional context to help interpret what the numbers really mean? Why not configure your own new metrics, on the fly? Why not allow users to create their own special views for easy answers?
The ease and flexibility of our solution makes it easy to grow and evolve analytics as business changes. This adaptive evolution concept is a key design principle of our technology. It allows us to quickly respond to business needs, and more excitingly, remain relevant in a rapidly changing technology innovation era. After all, who doesn't want presentation-ready report packages right next to root cause, total cost of care and "what if" analyses? Where do you want to apply artificial intelligence and smart text? What would you look at with predictive capabilities?
Imagine where health data can take you.  Check out our out-of-the-box analytics and then ask for a demo.
Learn more
Simple, visual, intuitive, accessible - yet powerful.
Yes, of course. It's no longer novel, it's expected. Ask for a demo and we'll gladly take you on a tour.
SO. MUCH. DATA.
Eventually, any data source can be integrated into an analytic environment. How long that takes, how painful it becomes, and how many problems irritate you along the way is the difference. Our core data ingest process anticipates unique data feeds and simplifies implementations. And it is a good thing, too, since our last inventory revealed more than 1,560 data formats from 324 different data suppliers. We regularly work with both claims and non-claims health data – from medical and pharmacy to eligibility, wellness programs, biometrics, and lab results. What else are you thinking about? Let's talk about how we would get you there.
What is not often highlighted is how often subtle data source changes interfere with analytic solutions. This is where our people quietly save the day. We can work directly with source system owners to erase all these inconveniences from your list of headaches, so you remain focused on your priorities.
Health data is safe with us. It's in our name.
Going fast, taking risks and experiencing exhilarating moments are a lot more rewarding when no one has security vulnerabilities, data breaches, unauthorized data access concerns, or legal issues on their hands. That's why we take no shortcuts in this region. Our security, privacy and compliance standards exceed what is required and are the best in the industry.
Send your CISO our way – we love to talk shop about this part of our platform.
Trust is hard to build when you're wrong. That's why we work so hard to get the data right.
After 20+ years of processing health-related data sources, we understand data quality. To us, quality is more than processing based upon the expectations of a source system or transaction. We also assess data quality in the context of the integrated data fabric we uniquely create.
We have a three-tier methodology surrounding our approach to data quality.
Our data quality operations proactively identify issues and automatically fix what we can.
Our reconciliations and automated checkpoints perform cross-checks to surface discrepancies. We elevate chronic issues and address root causes in partnership with system and process owners using the Agile methodology.
Our governance model ensures transparency for analysts. We formalize and publish known issues, so full context is available when interpreting results.
Services
Solutions include integrated services to compliment the entire connected health data process
Speed = Get it right the first time.
We work with you to define initial and subsequent phases to ensure a timely, high-value implementation with early value-delivered milestones. We offer standard blueprints and work through your specific goals and data sources to tailor the traditional approaches to best meet your needs.
Everyday data details - we've got you covered.
Depending on the resources available through your own IT team and system administrators, we scale a wide spectrum of options that consider contracts to address the ongoing administration of users, new analytic requirements and system administration. Administration and operations of the cloud environment are included in the base maintenance service for all options.
Data operations is also the first set of resources taking care of data ingest, quality processing, and reconcilation to sources.
Let's dig into the data!
You set the pace of analysis based on the resources and expertise available within your organization and trusted partners. Our team consists of experts and enthusiasts who are always ready to help you get the most out of your data. Our customer experience team meets with you regularly and can introduce you to ideas or options, including everything from identifying ideal pilot candidates, developing ROI and VOI for new health vendors, comparing carrier performance, monitoring KPIs, and isolating outliers for interventions.
Re-orgs, conflicting priorities, and urgent requests
Just when everything is running smoothly, someone in your organization takes on a new role, a new initiative reprioritizes work, or maybe things have never been adequately staffed. Let us know and we can help fill in the gaps until you reach smoother waters. Our goal is to help you with all the loose ends so you can focus on using data to drive your priorities and objectives forward. We're here with band aids, icepacks and anything else you need. It's going to be ok.