Analytics in HDMS Enlight
See the analytics immediately available to you.
Enlight infuses over 40 methodologies into data available to analyze.
Enriched data gives you better analytics.
Smart Analytics
Depending what you see, you'll have another question. Dig deeper.
With enriched data, you are unstoppable.
Use these analytics to reveal cost reductions and quality improvements:
Annual reviews and plan performance
Cost drivers and outliers
Service costs and utilization
Episode cost and quality transparency
Use these analytics to serve as a foundation for strategic decisions:
Population health and health equity
Risk assessments and rising risks
Conditions and diseases
Impact of preventative services
Cohorts and disease progression
See a demo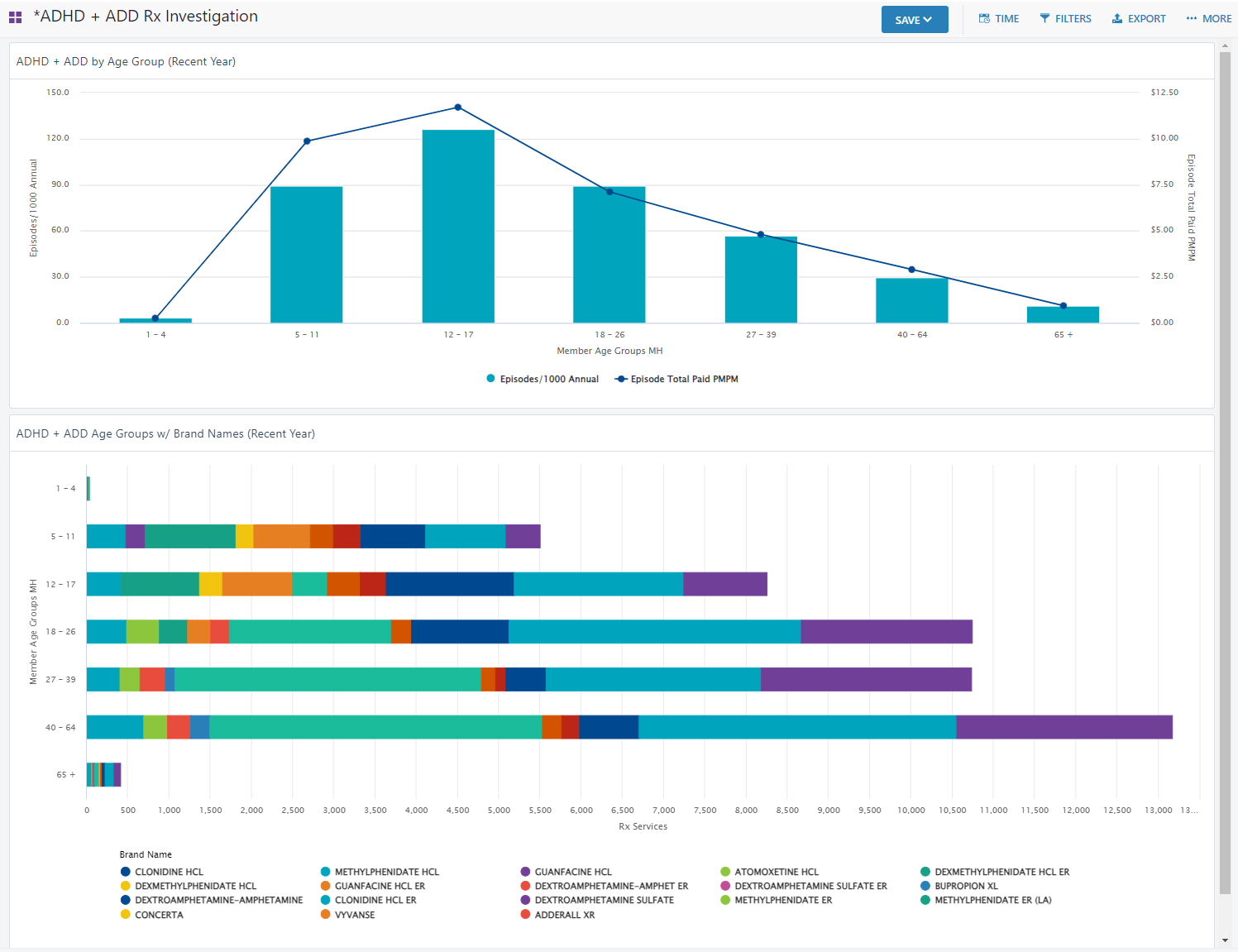 Build your own analytics, reports, and dashboards
In addition to a robust out-of-the-box library of analytics and reports, create your own analytic views.
It's all about the data
Analytics are easy when data is prepared in the right ways.
Data preparation classifies and structures data, including 40+ industry methodologies.
Data prep and data engineering makes all the difference in analytic environments.  Applying industry standard and industry-leading methodologies within your health data platforms lets you ask questions like  How do social determinants of health influence PCP-appropriate ER visits?   with just one click.
HDMS offers 25+ social and environmental indices and dimensions, which enrich anlytics.  Explore SDoH – just one of the HDMS enriching methodologies, and how this expands and deepens health plan insights.
Connect views at the member-level using sources within and outside your organization.
Enjoy a top-shelf member-centric data fabric fed by claims and other data feeds or through an enterprise data warehouse (EDW).
Bring together multi-source in-house information along with third party and supplemental data.  Understand people from all health perspectives. HDMS integrates data at the member level which produces endless options for whole health analytics.
A Member 360 is the foundation of holistic health insights for an organization. We make that easy for you.
Artificial intelligence and machine learning is at work for you.
HDMS offers sophisticated  yet highly usable predictive analytics.
Native models built and trained using extremely large data assets (improves prediction intelligence)
Robust approach includes detailed outputs, stored historical predictions, and multi-model analytic views
Usability enrichments include categorizations and segments (e.g., high, medium, or low risk)
Dashboards for each model plus analytics with multiple model intersections
Predictive models for what?  Let's build and use them where we can make an impact – that's our philosophy.
We offer predictive models to address areas like:
ER visits
Admissions
Costs
Leave
Interact with predictions and member-level outputs for activation strategies. 
Now that you have enriched data, get 
Business insights, not just reports.
Analytic Packages
Specialized enrichments further enhance deep dives into focused investigations.
Ready to explore even further?
Sophisticated enrichment methodologies unlock even deeper insights.
Featured analytics
Here are some other areas of interest in our client base.  
Core Analytics
Yes, of course you still need the basics.  We've got you covered.
Enrollment
Claimants
Expense & Utilization
Inpatient
Outpatient
Professional
Medical Overview
Pharmacy
High-cost Claimants
Analytic Content
Get going immediately with analytic packages in Enlight. 
But this is just a starting point. A simple-to-use design environment means we're always creating.
Visit our Analytics Practice page to see some of the latest and greatest projects we've worked on with clients.
Analytics Practice