Who is HDMS?
HDMS at a glance
We'd love to share a little more about our company and our solutions.
Download for more details on what we do and who we serve. Contact us with any additional questions – we're here to help!
Open me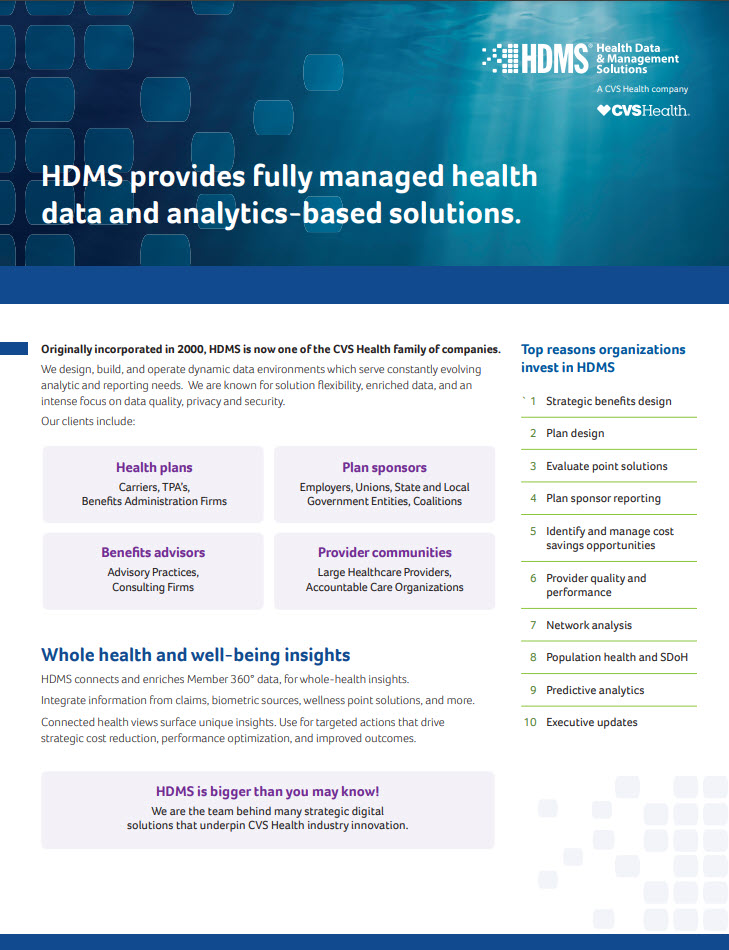 Useful Documents
Who is HDMS?
What should health benefits look like now?
Health care is changing quickly.
Read about the top 5 trends in health care and the analytics you can use to navigate plan design with confidence.
Read Now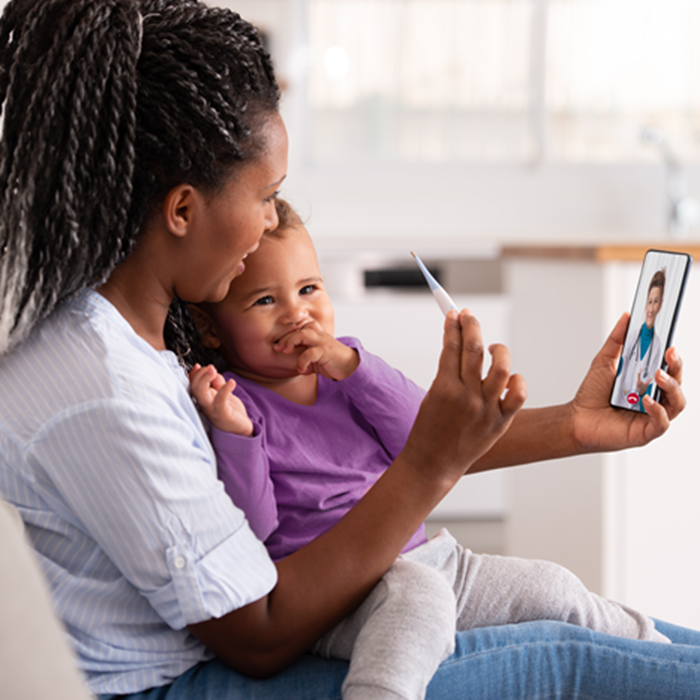 SDoH Impacts
Quantify them
Point Solutions
Measure ROI
Total Well-being
Understand connections
Omni-Channel
Connecting it all
Engagement
Reverse delayed care habits
Which analytics help us make informed decisions?
Read on for analytics you can use to navigate the sea of benefits design options.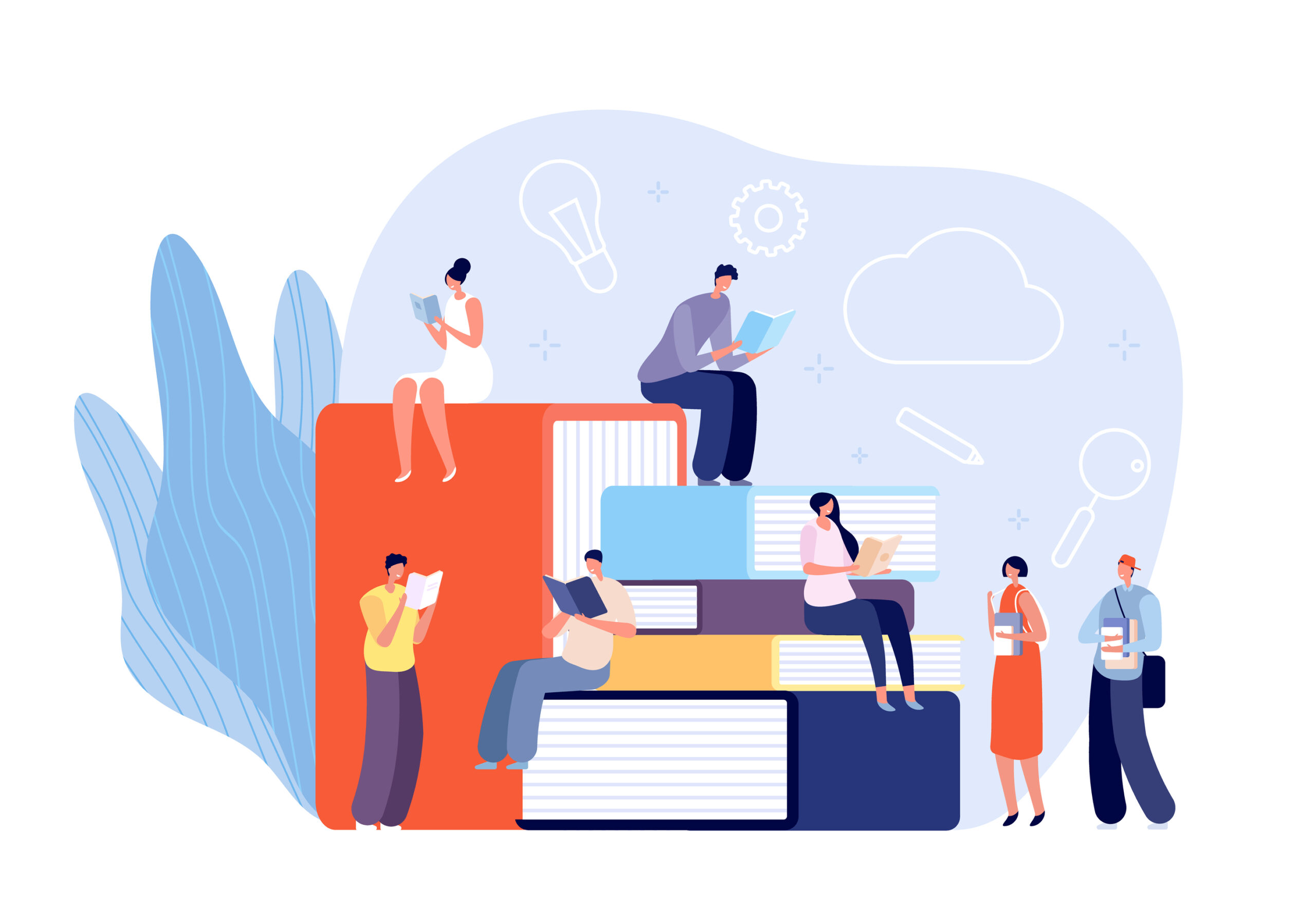 Trending now
Top 5 Health Care Trends
SDoH Insights and Analytics – Delayed Care
What trends do we see in delayed and deferred care since the pandemic?
Let's dig even deeper… how do social factors influence care utilization?
On-demand webinar
What will that mean for costs next year?
Hear Insights shared by HDMS and esteemed partner Integrated Benefits Institute (IBI).
Originally presented as part of an AHIP webinar series.
Webinar
SDoH Insights and Analytics – Delayed Care
Measuring Mental Health Costs
Insights That Will Blow Your Mind!
HDMS experts share a number of hot new analytic approaches that reveal additional costs of mental health.
On-demand webinar
Take a deeper look into mental health and also investigate how social determinants of health relate to care needs and costs.
Originally presented as part of an AHIP webinar series.
View the slides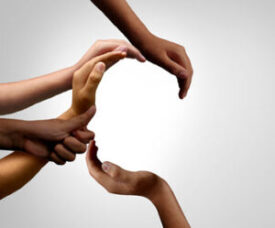 Webinar
Hidden Costs of Mental Health
One more field can make a difference: Diversity, Equity, and Inclusion.
DEI initiatives need vision born out of facts.
We're used to looking at a lot of healthcare metrics – utilization, costs, outcomes.  Even just a little more data can tell us a lot more about people in context.
Check out how Plan Sponsors are surfacing measurable differences within their populations, by adding just a little more data into their analytics.
See some examples
See a webinar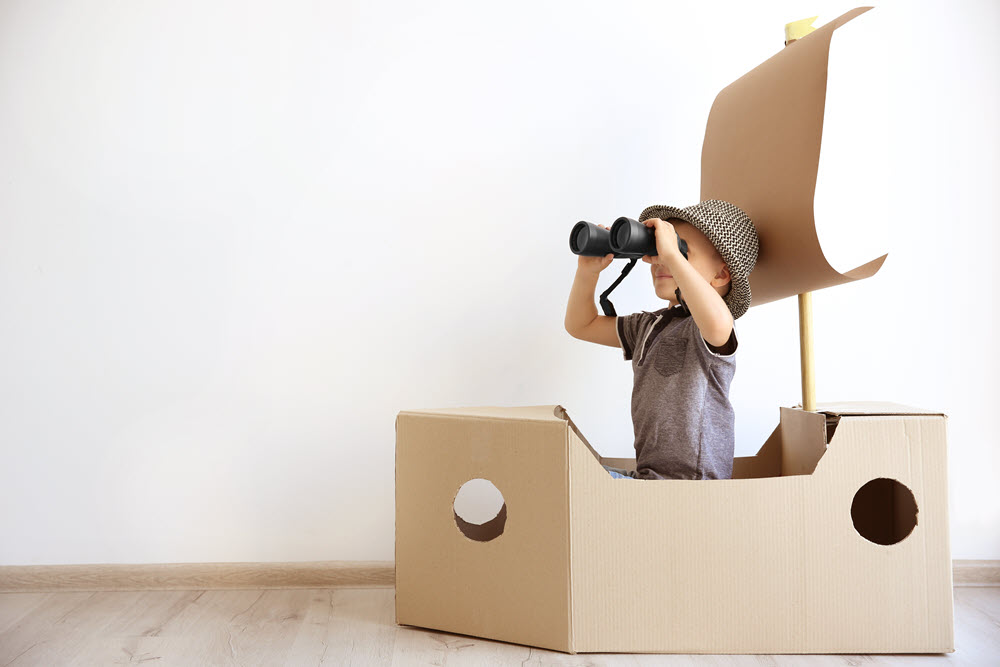 Join the movement.
We'll help you get started on measuring how healthcare needs and patterns change across different subpopulations at your organization.
Amplify analytics with SDoH enrichment.  This helps reveal health inequities.
Learn more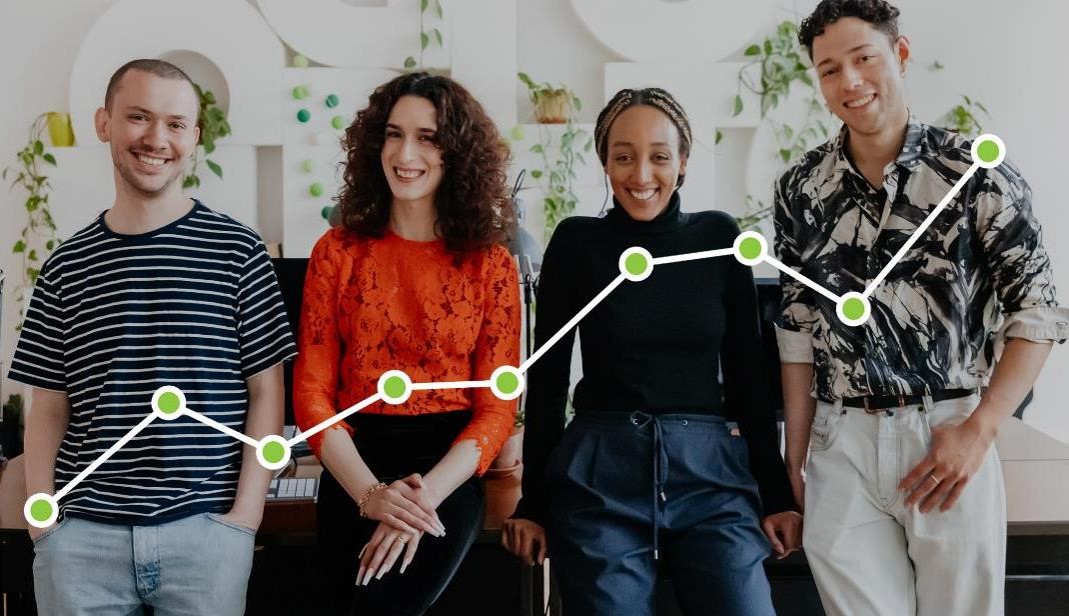 Deeper DEI insights.
With SDoH capabilities in HDMS Enlight.
See how easy it is to look at how social determinants of health influence your population. Find where inequities exist and track progress of program efforts.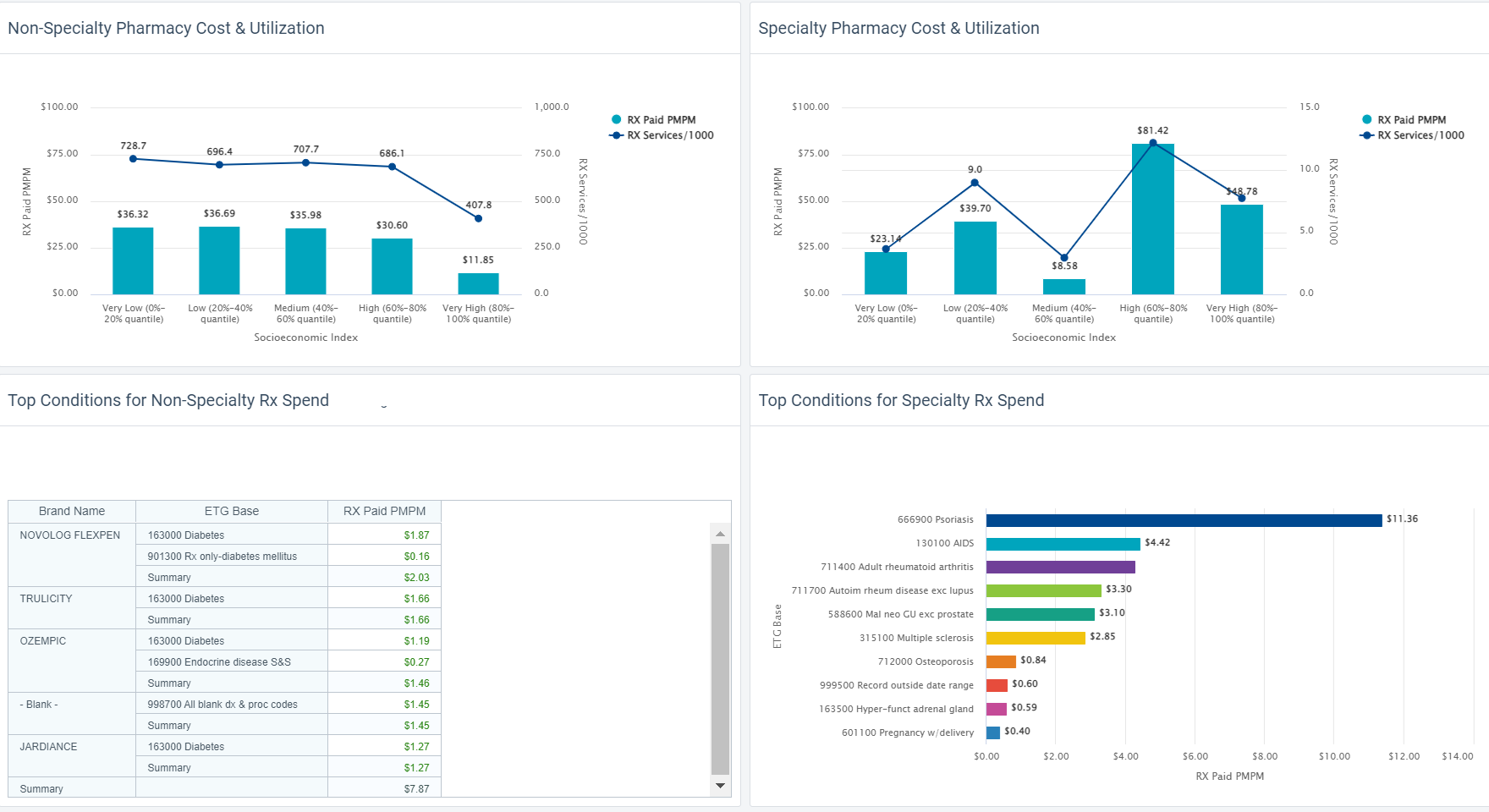 REAL and SOGI data as well as the HDMS Social Determinants of Health (SDoH) enrichments allow a much deeper investigation into health patterns and costs.
Measuring these differences allows us to take what we anecdotally see or suspect, and support it with facts.
Collegaues focused on Diversity, Equity, and Inclusion (DEI) agendas are wonderful partners. Share these insights with them.  The numbers give your organization a brilliant set of facts to help drive decisions aligned to company goals.
We'll help you surface these insights at your organization.  Contact us to hear more about the possibilities.
Trending now
Diversity Equity and Inclusion
Numbers talk.
They are a powerful language in business.
These numbers let us think differently and specifically – design strategies and plans that improve health engagement and drive down costs.
On-demand webinar
With digital transformation improving health experiences, we now have even more Big Data in healthcare to use for deeper insights in population health.
When it comes to health analytics and DEI efforts, what data do you need? How do you get it? How can you get started? What happens next?
We're so glad you asked – hear from our experts.
Originally presented as part of an AHIP webinar series.
Watch now
Download the slides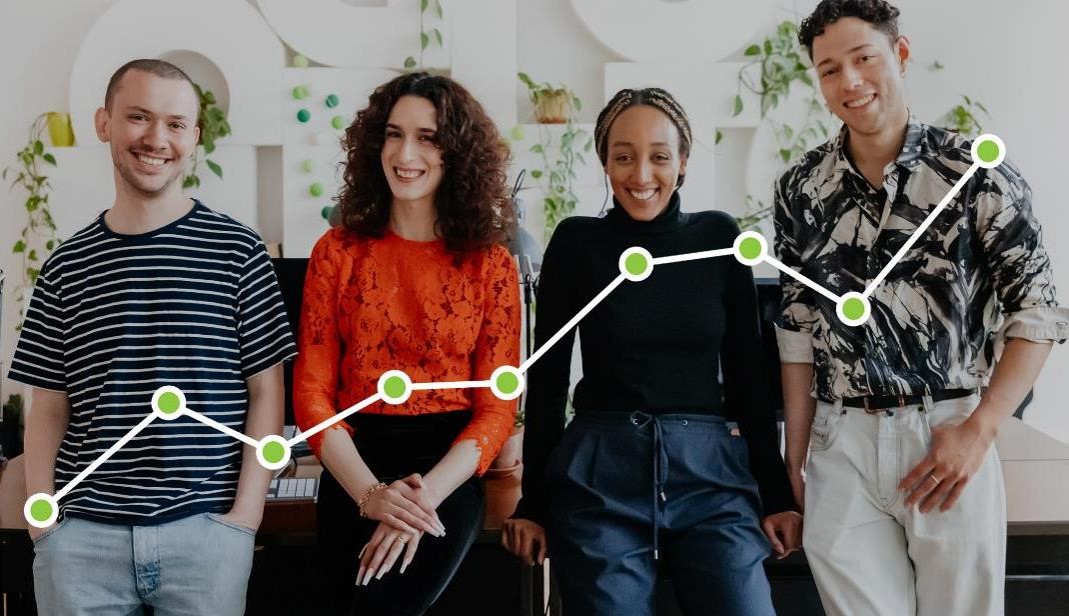 Learn about ways you can actively measure
Health outcomes
Costs
Utilization
through the lens of diversity equity, and inclusion.
Most importantly, …then what?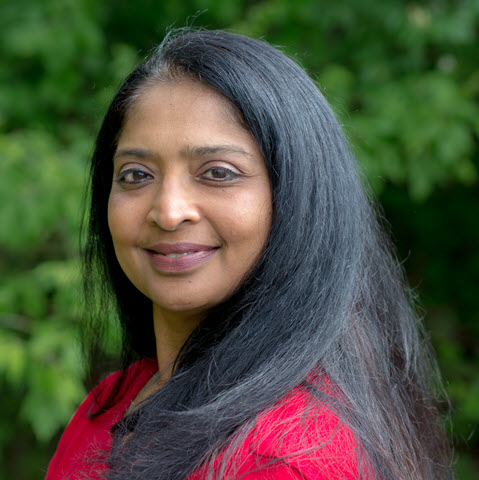 Dr. Rani Aravamudhan
Head of Clinical Advisory Services
Rani Aravamudhan is a more than a physician, specializing in General Medicine.  She has extensive experience in the EMR/EHR and population-health industries with a focus on clinical transformation, workflow design and development, value-based care, risk management and clinical quality and performance reporting. Her strong background in clinical medicine and experience in the HIT industry make her successful in navigating payer, provider, and technology vendor landscapes.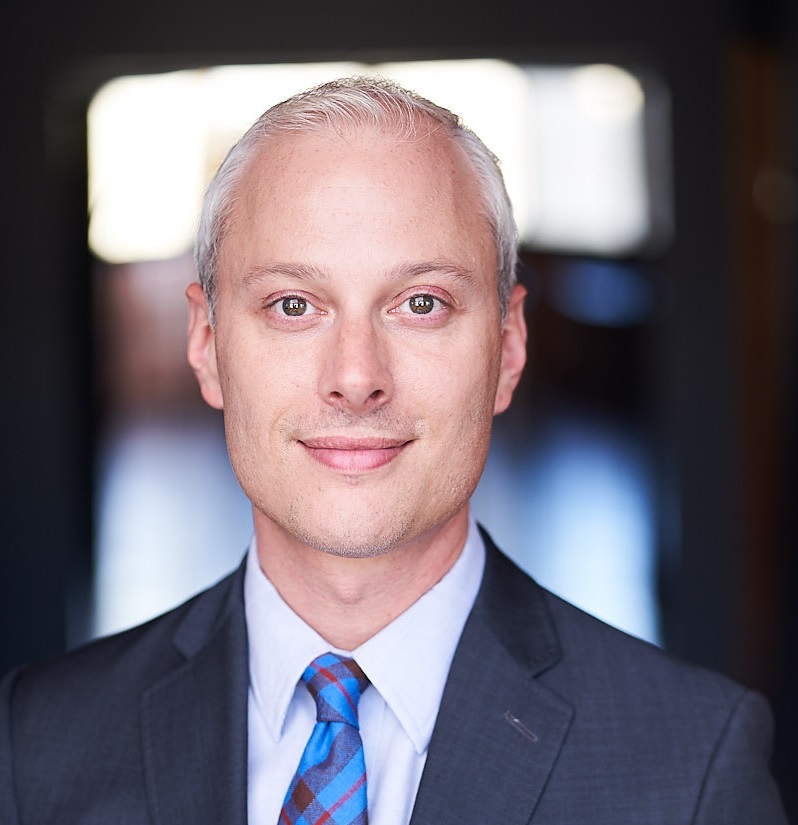 Jason Elliott
Vice President of Employer Customer Experiences
Jason Elliott is Vice President of Customer Experience for Employer clients at HDMS.  A true public health enthusiast with a Masters in Epidemiology, he spent over a decade delivering dedicated clinical analytics and leadership at BCBS.  Since then, Jason has managed the managed the Employer practice area.  He brings very structured thinking into the types of problems his clients are trying to solve, and what can be done with the insights discovered.
Trending now
Improving Plan Performance by Measuring Diversity, Equity, and Inclusion.
Predictive Models – Using data to look ahead
An amazing and powerful use of data.
We have so many new reasons to use these advanced approaches to offset rising costs of care and challenging health conditions: deferred care, the increased need for mental health care, and virtual care adoption are disrupting historical patterns.
How do predictive models work?
Where is it best to consider using predictive analytics?
What should you be doing with the results?
On-demand webinar
Learn how predictive analytics should fit into an overall analytic strategy. Invest in capabilities that allow you to act upon results, instead of sitting in reports in your inbox. Predictive analytics, when put to purpose, can be an instrumental part of a broader strategy to drive down costs and improve health.
Make sure you have the big picture so you get the most from these investments.
Originally presented as part of an AHIP webinar series.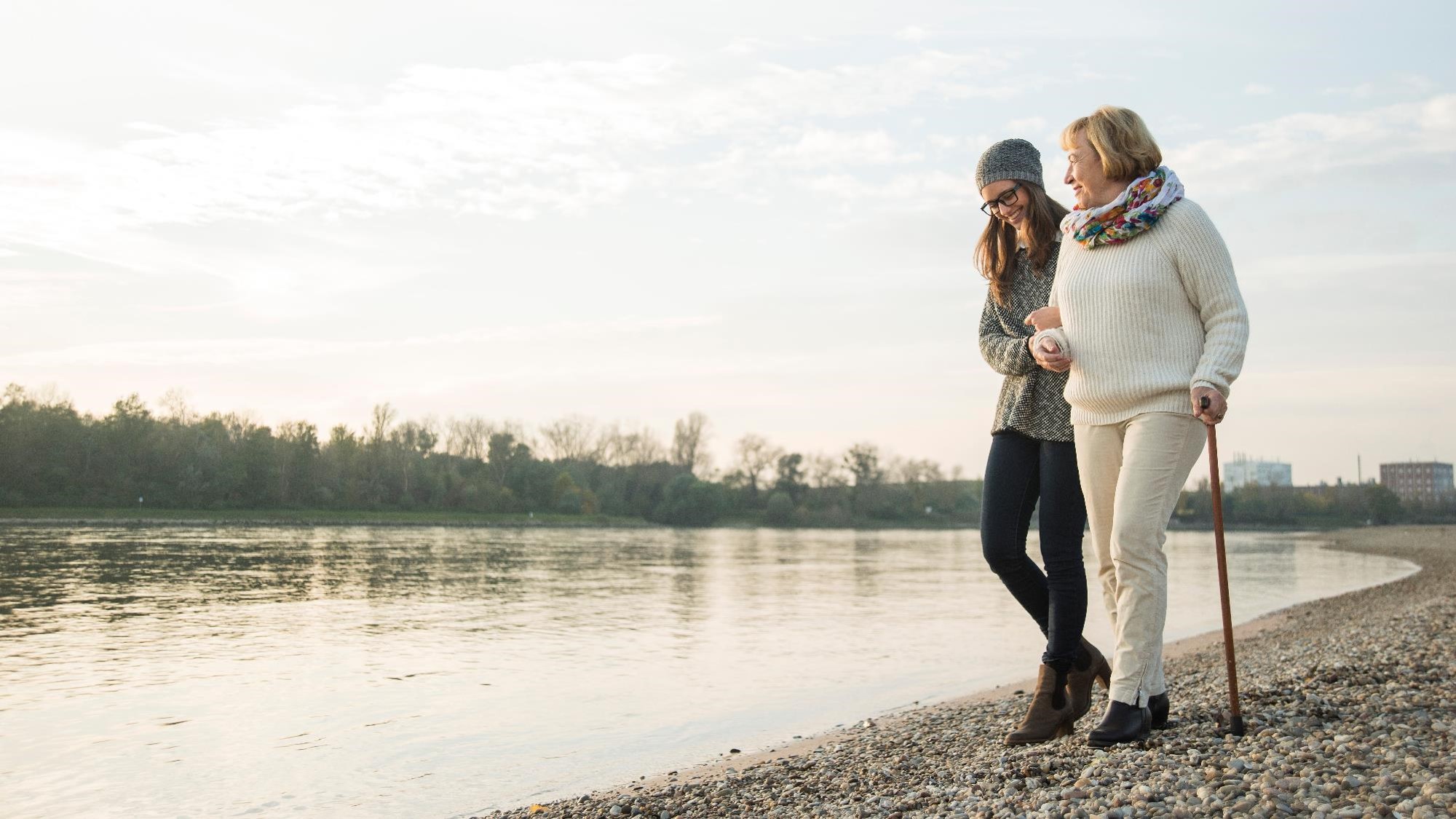 We share:
A framework to use to help discern where and how predictive capabilities are highly useful
Insights into how you can couple predictive capabilities and leading indicators
Approaches other health insurance providers are taking to act upon what their data is telling them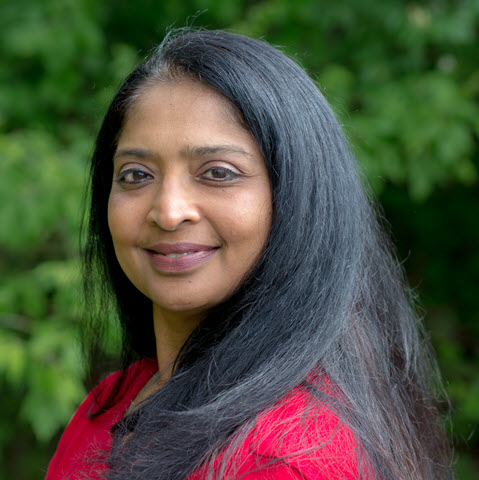 Rani Aravamudhan, MBBS
Head of Clinical Advisory Services
Rani Aravamudhan is a more than a physician, specializing in General Medicine.  She has extensive experience in the EMR/EHR and population-health industries with a focus on clinical transformation, workflow design and development, value-based care, risk management and clinical quality and performance reporting. Her strong background in clinical medicine and experience in the HIT industry make her successful in navigating payer, provider, and technology vendor landscapes.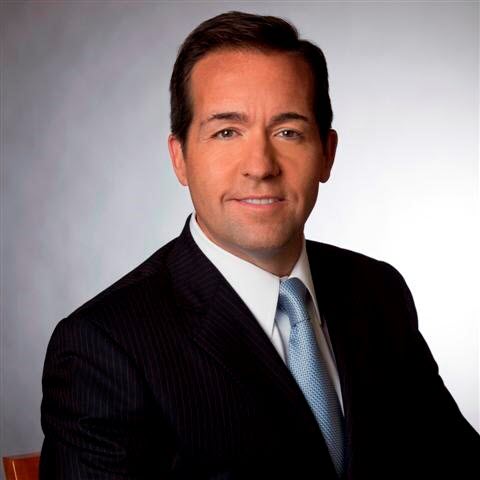 Keith Wilton
Head of Product Management
Keith Wilton is the Vice President of Product Management, with more than 15 years' experience in Product Management and an emphasis on creating and deploying complex software applications. Keith joined HDMS in March 2016 after serving as Vice President of Product Management at a leading player in the Alternative Investment space. Prior, Keith ran product management for an arm of Morgan Stanley, and for other organizations.
Webinar
Predictive Analytics: Drive Affordability and Better Health
SDoH insights - Let's understand and trust the data we use in analyses.
How do we do that?
SDoH analytics requires a lot of data, and different types of data. Claims data tells us about health care visits. Digital device data tells us about daily health. And special data sets let us delineate the social and environmental factors that could influence each member.
In SDoH analytics, we understand each person as an individual and in context, but look at a community as a whole in aggregate, to see what trends and patterns emerge.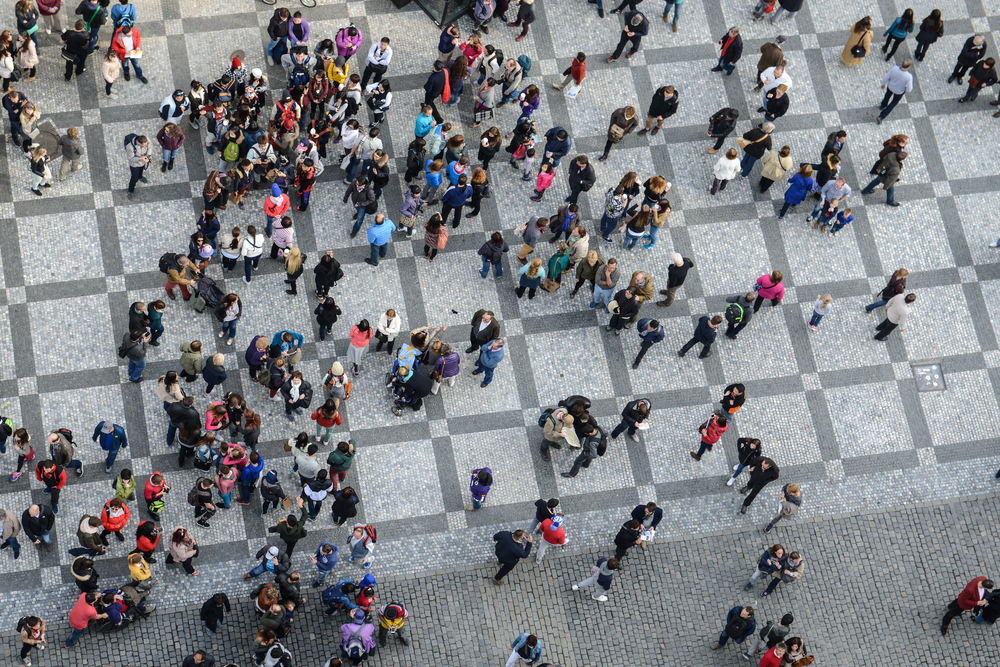 How do I know if I can trust this SDoH data?
Here are 5 important aspects to consider, and tips of what to look for, so you can trust the insights in your SDoH analytic endeavors.
How is the data integrated?
How specific and granular is the underlying data?
What is the social determinant being analyzed?
Can you clearly understand the definitions and data sources used for insights?
How trusted is the health data itself?
Let's dig into some more details on each.
#1 - The data model
How is the data organized and connected together?
Wellness means care and lifestyle choices. This data is scattered across many different places. Health analytics must integrate complex claims data structures and lifestyle data at an individual person level. SDoH analytics should also be connected at a person level. This way, the data is ready to serve all the analytic questions you may ask, without additional data preparation and delays.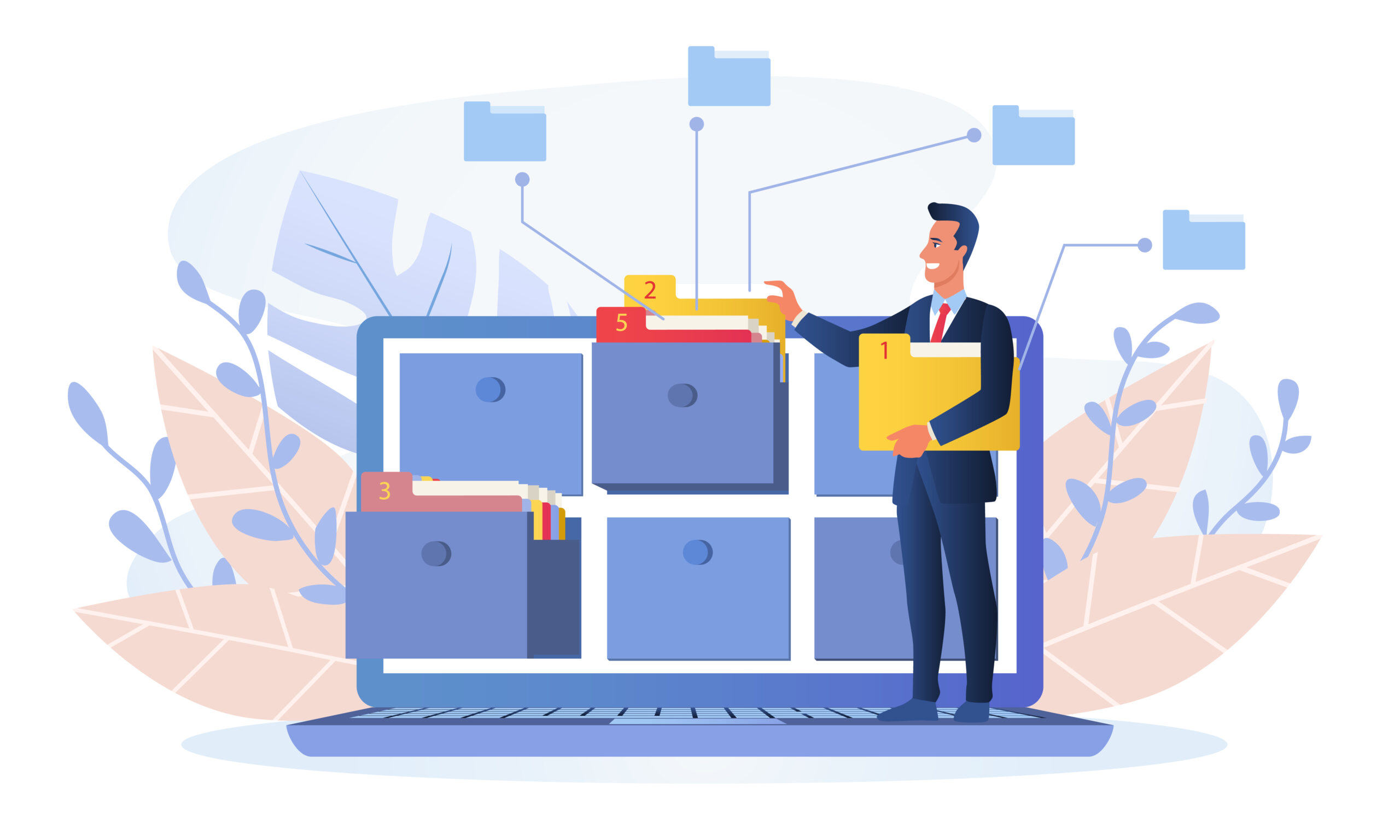 #2 - Granularity
What level of detail characterizes the data sources used?
The more granular a data set is, and assuming it is associated at a member-specific level, the more trustworthy and usable your SDoH insights will be. Think about the variation of social and environmental factors you see across an entire zip code. Now think about the degree of variation you see within a neighborhood. A Census Block Group is akin to a neighborhood. This means if you have source data that has a Census Block Group level of granularity, you are seeing only the degree of variation across neighborhoods, not entire zip codes.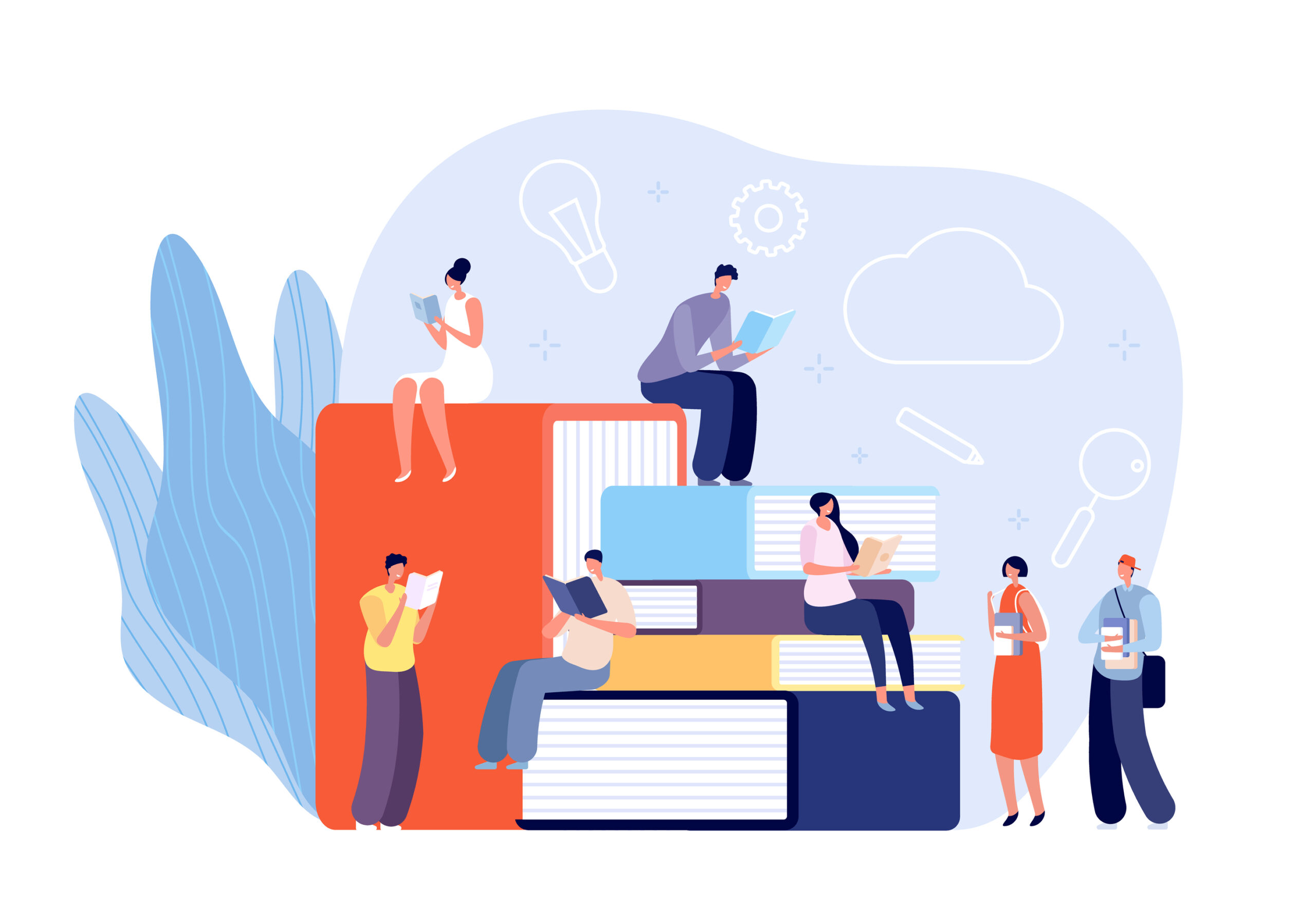 Here are two tips for building out a new solution:
TIP: Find out the options you have around individual member address data. Ask questions about the quality and completeness of these fields. Ideally your solution will have the flexibility to use or assemble the most complete collection of member addresses possible.
TIP: The best solutions offer a member-level integration to at least census block group level.  That associates people to the social and environmental factors known to a neighborhood level of insight.
#3 - Specificity
Which factor are you investigating?
Social and environmental factors cover a broad range of influences on health. Air quality or water quality? Economic hardship or transportation access? There is so much we can do if we have lots of different SDoH indices to choose from. For instance, one HDMS client is looing at the transporation index alongside the technology index to assess the potential usefulness and impact of a mobile unit verse a virtual solution for specific care services. Locations with low transporation AND low technology indices are prioritized for mobile services, while other locations are suitable for virtual care alternatives.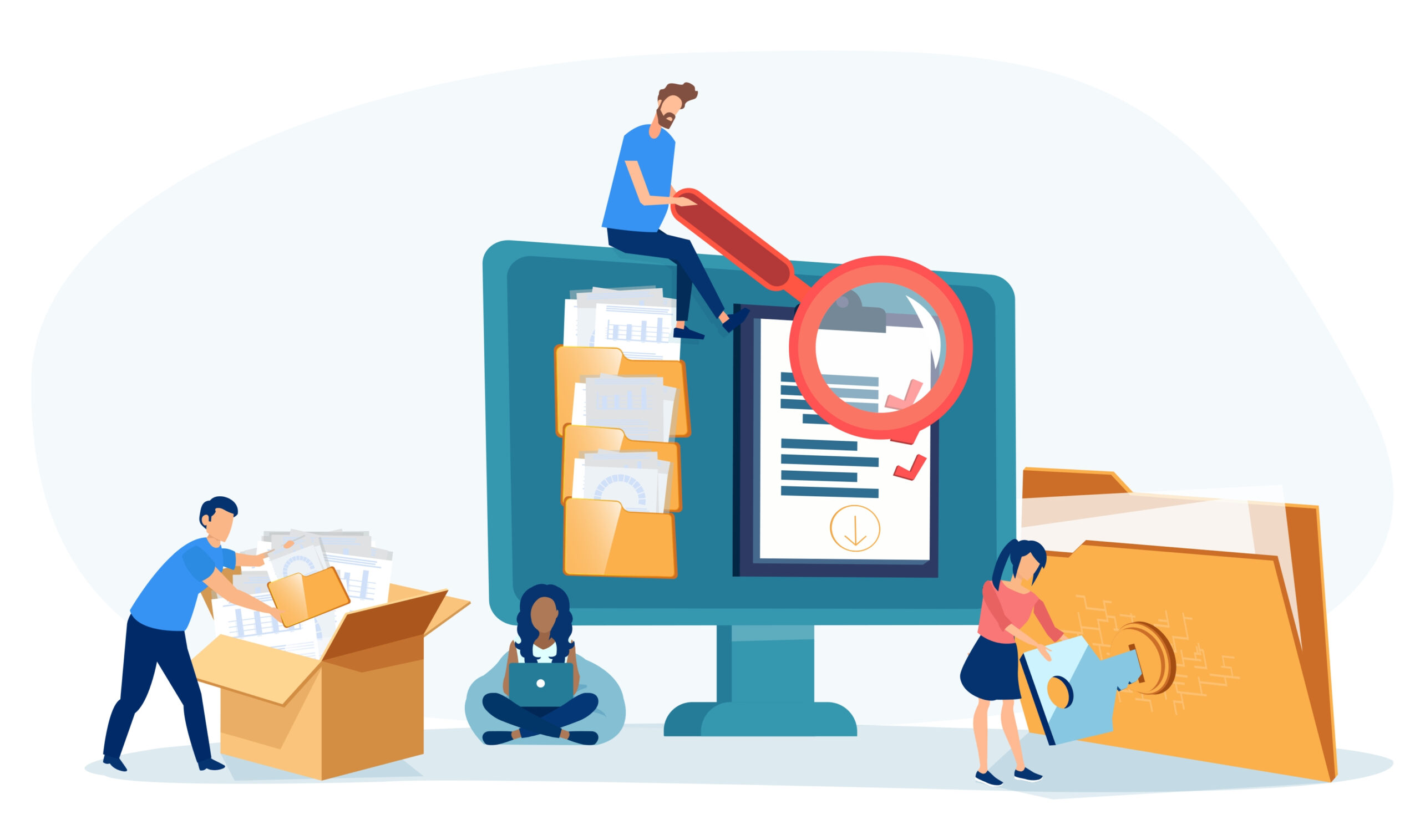 Here are two tips for building out a new solution:
TIP: Make sure your solution offers data and SDoH indices that meet broad investigative needs.  Most organizations have many questions and require multiple SDoH indices. In a discovery phase – a few options let users understand opportunities to act impactfully based upon different criteria.
TIP: Consider ways to allow analytic journeys to mature. Composite indices can be great for initial analysis. As a team starts to work on designing for a barrier or opportunity, a more specific SDoH indice will reveal important nuances or details.
#4 - Transparency
What are the definitions behind the numbers?
Have a good understanding of which social or environmental factor you are investigating and where that index is sourced. There are a wide variety of options. Nothing will be perfect. Some indices are more complete, more granular, more recently or frequently updated, than others. As you interpret results, have transparency around the process leading to the metrics. This will help everyone interpret and apply insights better in the long run.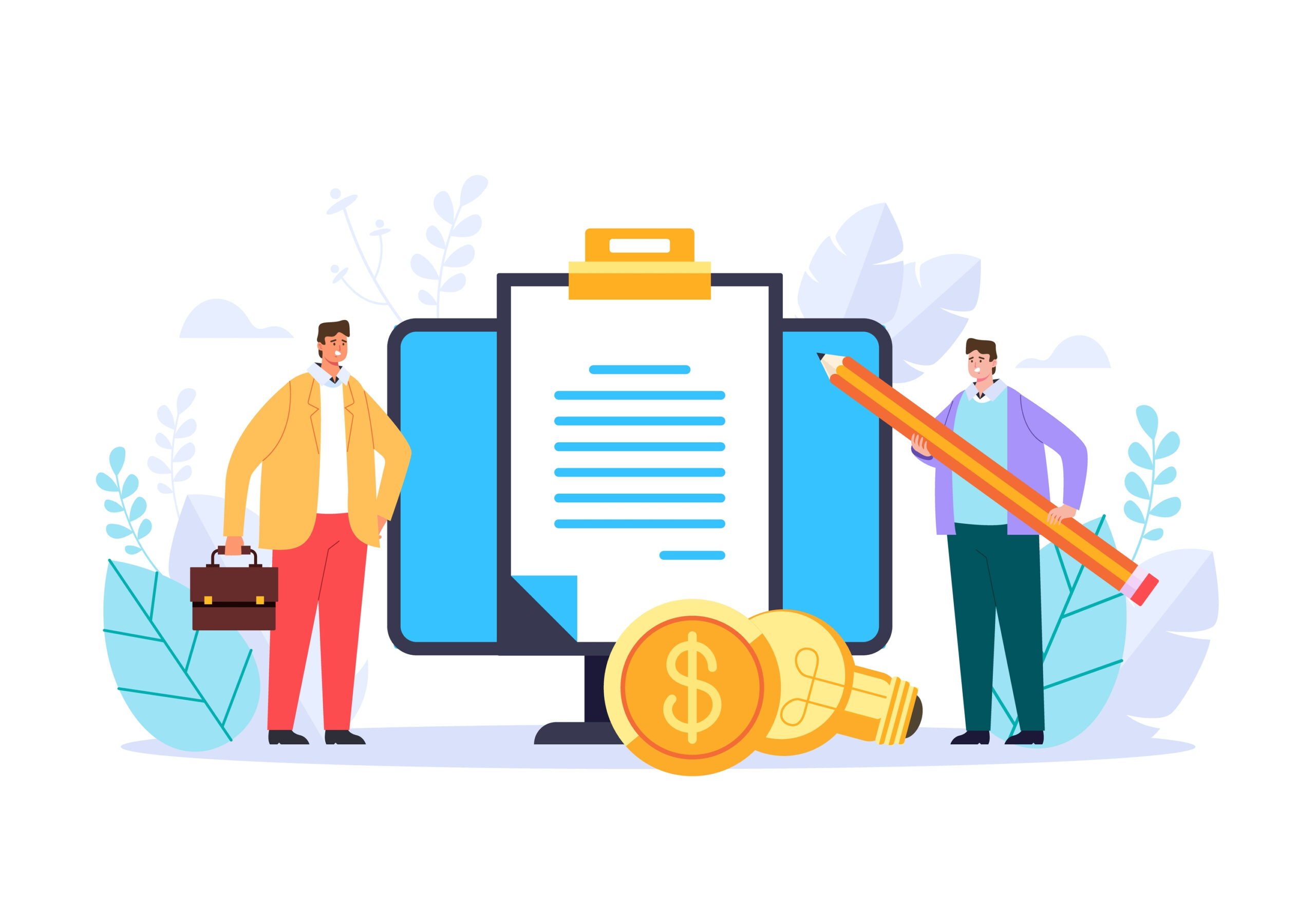 One last tip:
TIP: Enriching claim data delivers fast and intuitive investigations. This makes SDoH analytics easier too.
Enrichment can have many forms: classify claims by episode treatment groups (ETG), apply pharmaceutical classifications, and flag specialty druges. Enrichment processing also identifies gaps in care and low value care and makes it easy to surface these individual moments into analytics.
ER visits that have been classified using the NYU methodology allow you to quickly look at who visited the ER for non-emergent care, just by using a few filters.  Now think how powerful it is to further see these visits by income index.
#5 - All the data
What's the quality of your core health data sources?
As we think about integrating new data to investigate social determinants of health, we naturally focus on the new data – the addition. But we need to link that to core health data. Let's not forget the quality and usability of those systems or sources. The data quality processes surrounding your traditional analytics are a critical part of trusted SDoH insights.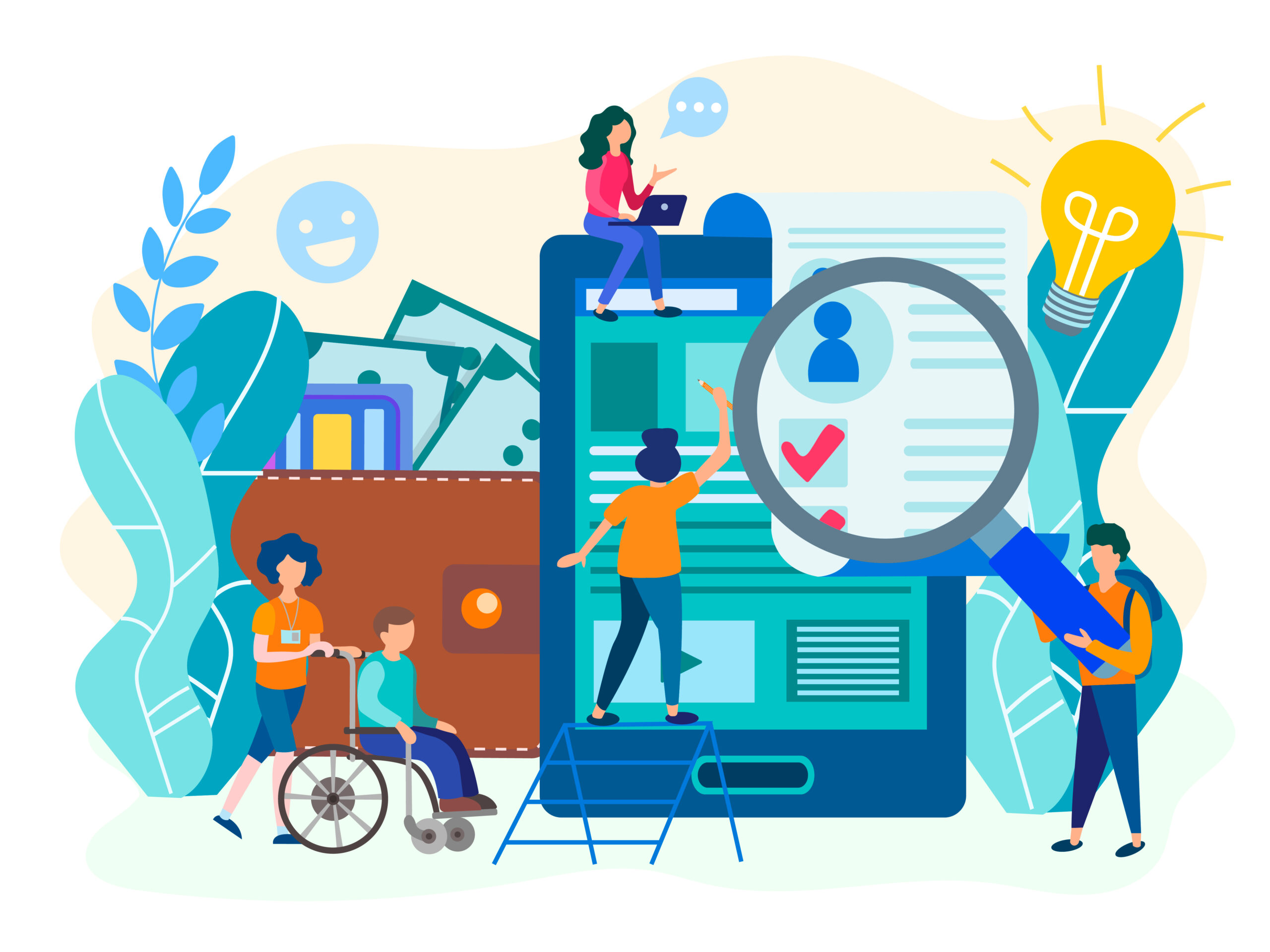 Simple, Powerful.
Check out how easy it is to include Social Determinants of Health (SDoH) factors into an analysis.
Easy to use – more time for driving change.
HDMS Enlight offers the most comprehensive out of the box SDoH analytics on the market.
Explore SDoH Analytics
Contact us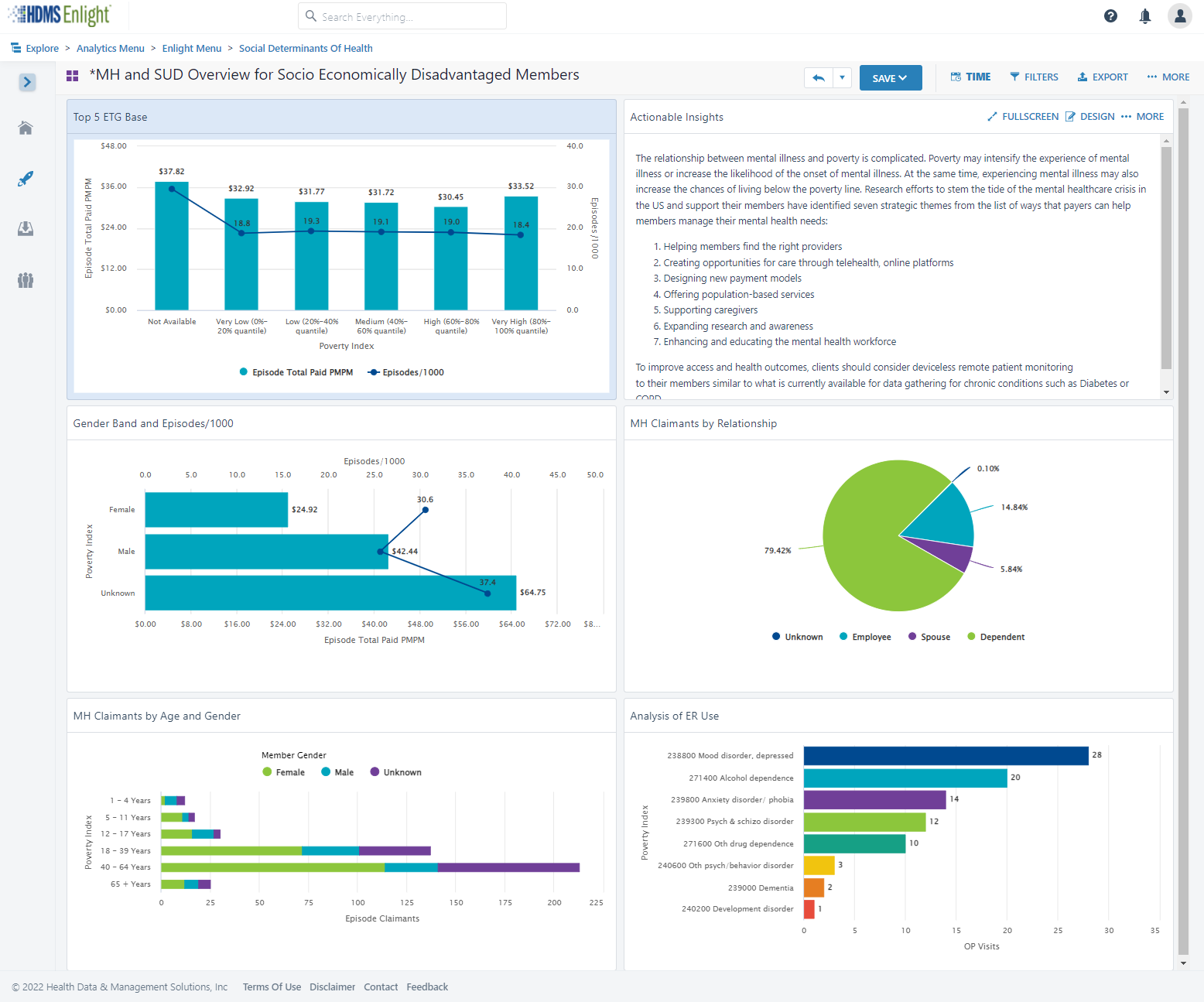 Trending now
SDoH Insights - Data you can trust
Best Practices to Measure Point Solutions
What value are we getting from our point solutions?
Have answers regarding "Point Solution Value" that your boss will love.
On average, large employers and plan sponsors have 9+ point solutions
as part of health and wellness benefits.
Point solutions have been a great way to enhance benefits and provide care for a targeted need.
But as point solution costs add up, the pressure increases to understand, and sometimes PROVE, the value.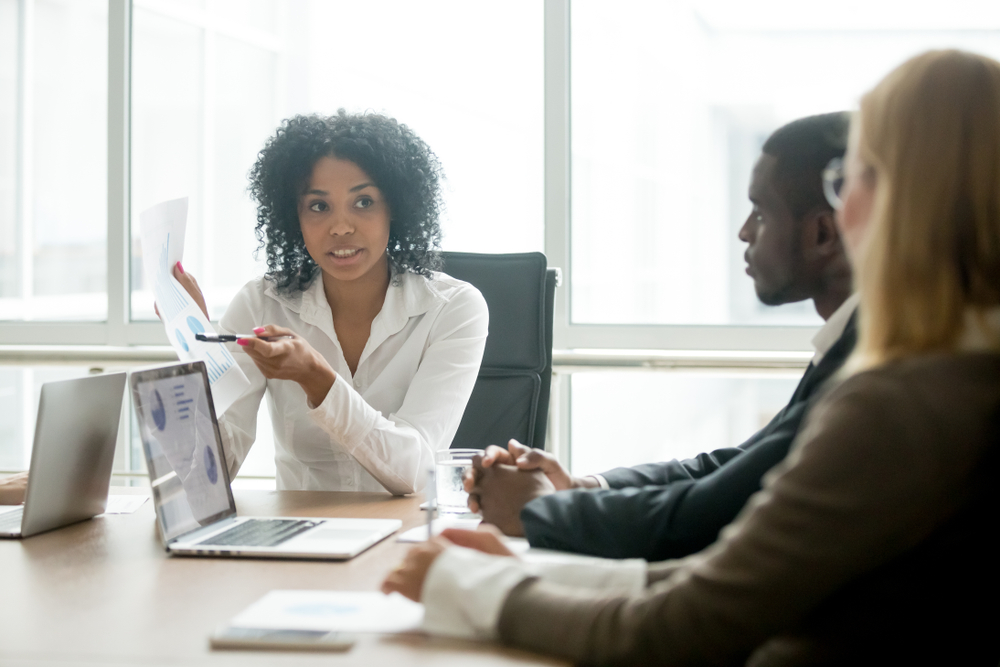 What's a point solution?
Most firms offer programs to identify health issues and manage chronic conditions (health risk assessments, biometric screenings, and health promotion programs).
83% of large firms offer a program in at least one of these areas: smoking cessation, weight management, and behavioral or lifestyle coaching.
Source: Kaiser Family Foundation study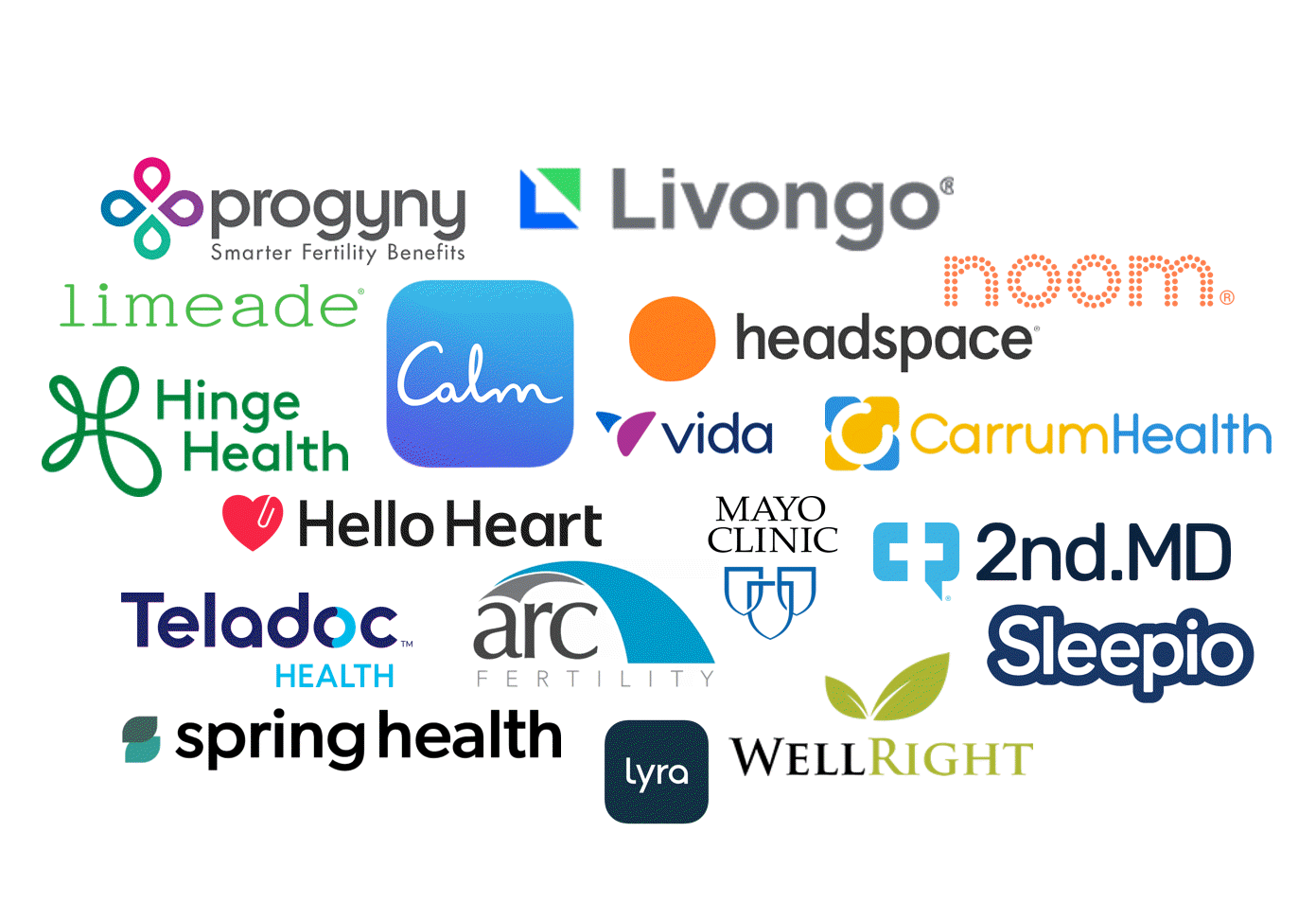 We love measuring value.  And OUTCOMES!
Here are three best practices, to deliver business decision-ready analytics, about the value of point solutions.
Best Practice #1:
Use a cohort strategy to evaluate point solutions.
Cohort comparisons are the ultimate analytic strategy for proving value. Without a direct comparison within the same population, there are so many factors that introduce doubt on what the numbers truly capture. Alternatively, by looking at well defined and specifically differentiated groupings of people, we can directly compare performance take away concrete and specific learnings.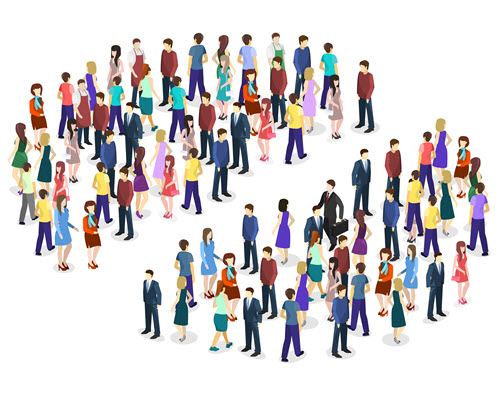 Two pro tips:
TIP: Look at related costs across your cohorts: Determine if there is value beyond just the immediate program financials. For instance, we have looked at disability claims, to measure the influence of a point solution program.
TIP: Look at related health concerns: Investigate other aspects of wellbeing to see if there are notable halo effects.  For instance, we have investigated if there are mental health differences across maternity program types, short and longer term.
Here's a good example from our client base: This national retailer wanted to measure the value of a Center of Excellence strategy for heart conditions.  The metric strategy compared a well-defined pair of cohorts that looked beyond traditional utilization and cost metrics.  We helped them also include mortality rates (COE – lower), returns to work (COE – faster), outcomes (COE – better), and company satisfaction (COE – higher).  Yes, that's right – employees actually reported a higher employee satisfaction rate on the survey following a major episode of care.
Best Practice #2:
Ask the right analytic questions.
Often "What's the value?" is the wrong question. The correct question is "Who is this valuable for?" or "What's the incremental value?"
There will always be a portion of a population that is engaged in their health and wellness. Your data can tell you who this population is, and provide insights that help you identify more people "like them" that you can target and pull along, therefore increasing program value. Also consider if the engaged audience would have been healthy or well without the special program, in some other way. Is it the program – or the people – that are providing the results you see?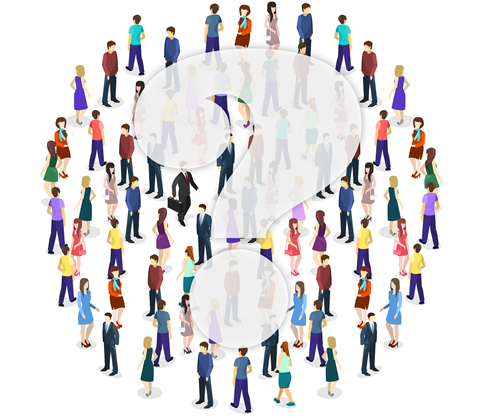 Analyze for the big picture and long term.
Choice might be the right choice. The optimal strategy may not be selecting the best performing program in some cases. Use data to confirm if similar point solution programs are engaging the same or different audiences.
One self-funded employer had two somewhat similar wellness point solutions – Solution A emphasized "exercise and feel better."  Solution B emphasized "Eat right and feel better."  They both showed value – which one should they keep?
A deeper investigation of the data revealed that the solutions were in fact engaging somewhat different audiences.  The self-funded plan sponsor found they increased the value of BOTH point solutions by understanding the demographic nuances, and creating more targeted communications and incentives that used these insights.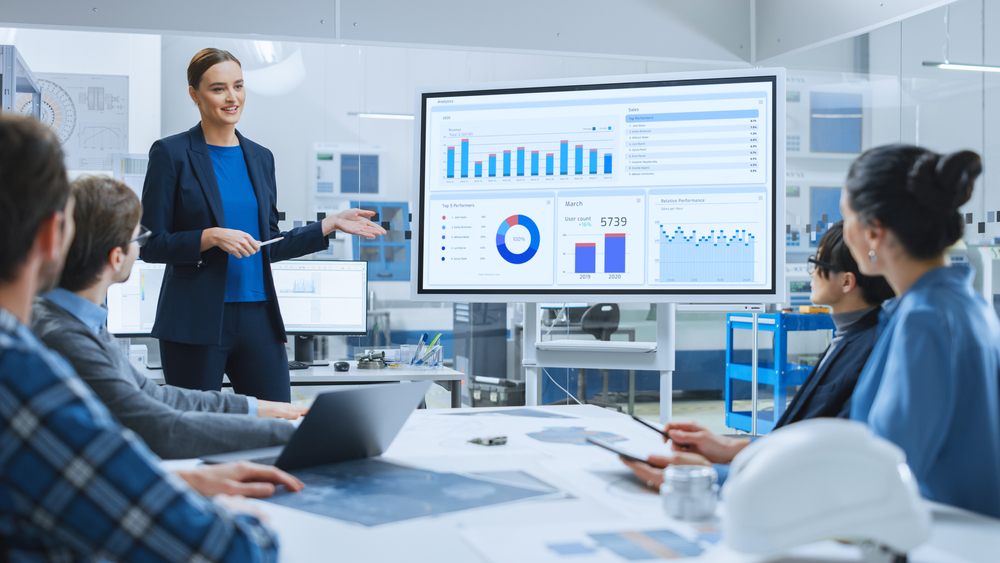 Design Early Indicator metrics.
Don't wait for results (e.g., traditionally after year 3 of data is collected and analyzed).  Design metrics that act as leading indicators.  After year 1, plan to optimize and performance tune.  Move the conversation.  Avoid "Wow – it looks like our MSK program had trouble engaging our guys in the warehouses even after 3 years,… should we look into a different solution or approach?"  Prepare for, "Wow – it looks like our MSK program is having trouble engaging guys in the warehouses – what's our plan to tackle this as we plan for year 2?"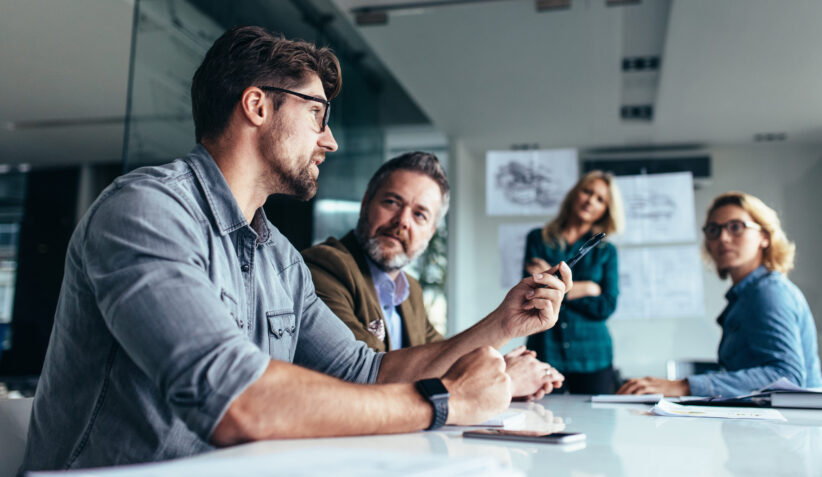 Best Practice #3:
Use ALL the data we have available in today's analytic world.
Understand how social determinants of health influence engagement and utilization.  Then optimize the point solution to meet broader needs by removing barriers.  The data can show you where actions will be impactful.
Leverage solutions that package this data for you.
Data that provides insights into social determinants of health can be time consuming to assemble into an analytic environment and then align to member health data. And yet it's so powerful for insights. Your analysts time is better spent using this data as opposed to prepping it manually.
We evaluated medical and dental claims for diabetics after the introduction of a new Virtual PCP program.  The solution was selected after seeing a statistically significant difference in PCP utilization across various household income segments.  We created a specific scope around diabetics to study impacts on utilization, medication adherence, medical costs, and co-morbidities in mental health.  Not all investigation can rely solely on data.  The task force team worked with "Voice of the Member" groups, formed based on specific demographics. They focused on understanding context and color behind the numbers.  Transportation, time away from work, and caregiving themes arose in the care access category.  Other reasons were also presented, but offered less immediately actionable solutions.
With less time prepping data, the team had more time to dig deep, address quantified specific barriers, and is now measuring impact.
Easy to use – more time for driving change.
Check out how easy it is to include Social Determinants of Health (SDoH) factors into an analysis.
HDMS Enlight makes it easy to put these best practices to work.
Learn more
Contact us for questions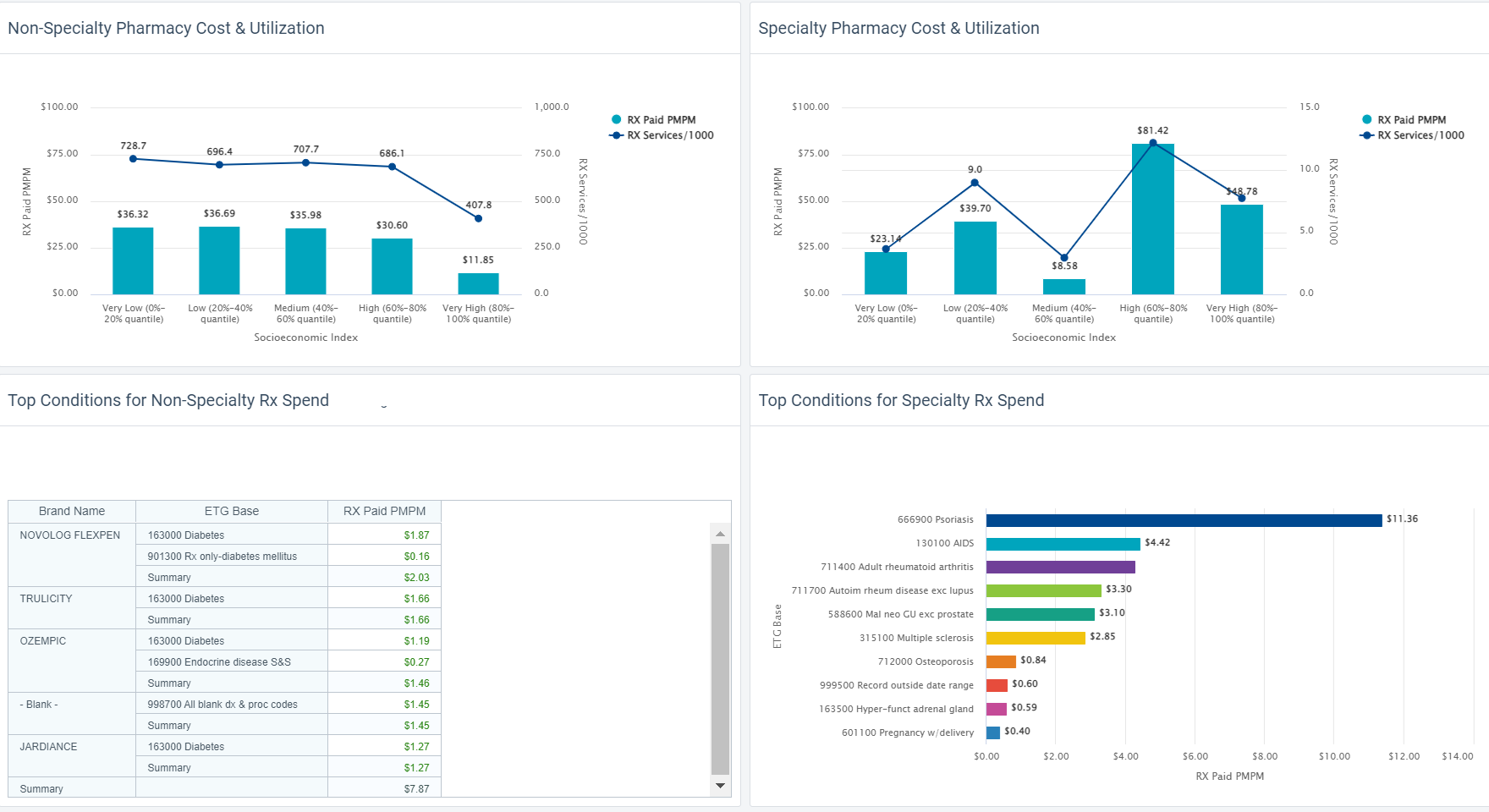 Trending now
Best Practices to Measure Point Solution Value
Avoid buyer's remorse
Did you ever have a home improvement project that finished late and cost more than you expected?
How about a technology implementation that finished late and cost more?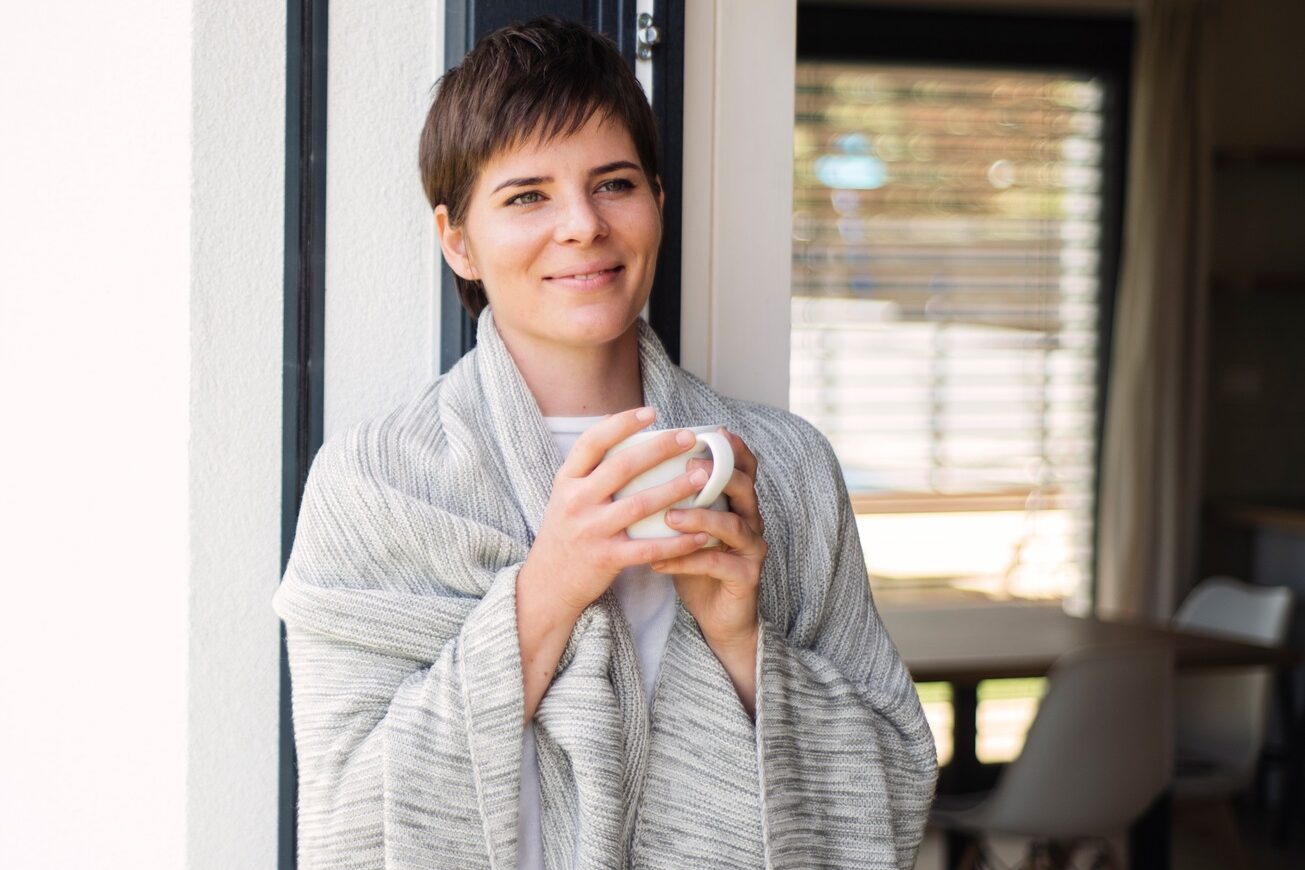 You are more likely to be on-time and on-budget if your plan is thoughtful and reflects your reality. Have confidence and know what you're really getting into!  Health data is very complex.
Here are three Best Practices for a successful
health data and analytics platform implementation:
Best Practice #1
One-size does not fit all. It's unlikely your implementation is the same as other organizations.  Why?
Organizational culture is a HUGE factor.
Dig in.  What are the details behind YOUR implementation plan?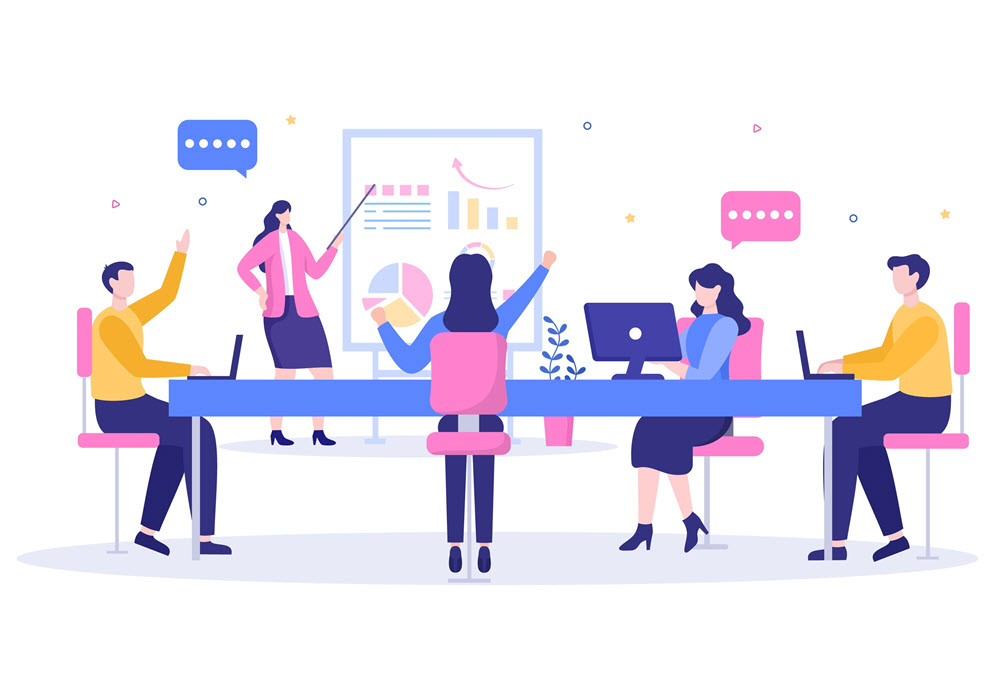 TIP!
Discuss what will be problematic or painful based on your experience and what you are moving away from. Are those complexities appropriately addressed, cared for, or resourced? Think about metric definitions and consensus, data quality, data reconciliation, matching and integration across sources, and slowly changing history.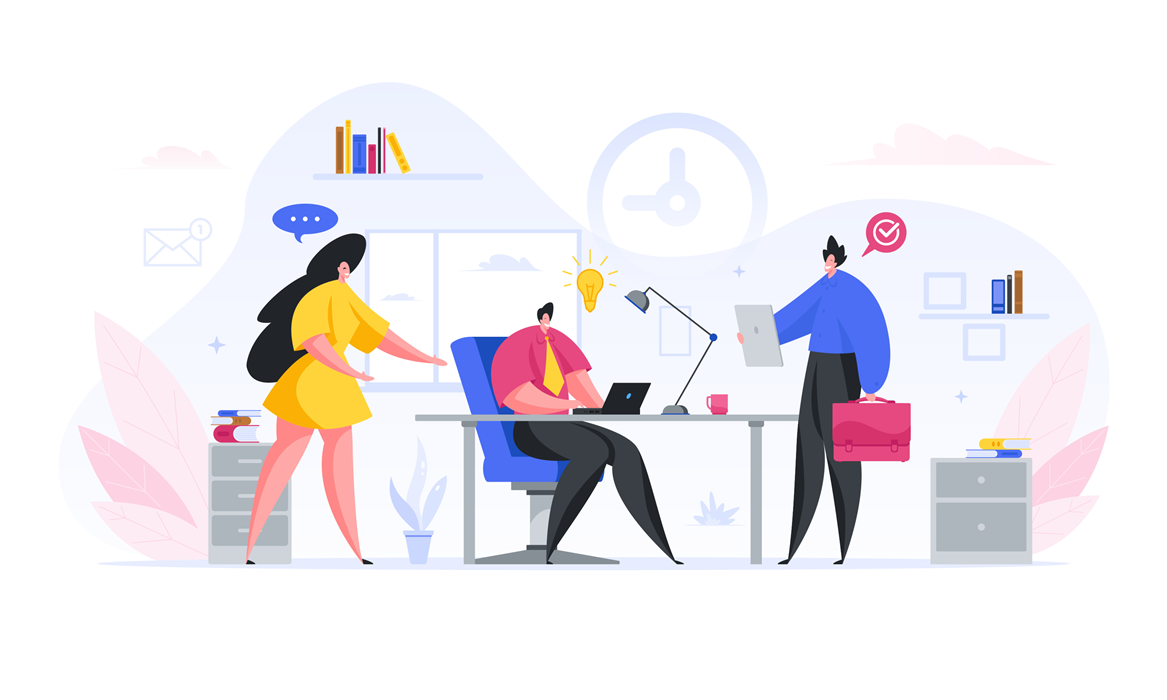 Best Practice #2
Identify what is- and is-not in your control. If something is beyond your direct control, is there a named resource and escalation path?  What risk does that pose to the project timeline based its nature.  For instance, your health analytics implementation is reliant on data from others.  How are your relationships and service level agreements with those partners and vendors?  How does that affect your plan and what's the back-up plan?
TIP!
Before your implementation starts, refresh your knowledge of the day-to-day contacts, authorities, and any contractual SLA's you have in place. If there will be costs associated with establishing new feeds or data interfaces, identify those early.
Best Practice #3
Top down, bottom up, or an interesting mix? Think about the approach that will work better for your organization.  What process works for you – here's my data – what can I do with it?  Or here are my objectives – what data do I need?  There are pros and cons to each but thinking about this as you prioritize is invaluable for setting internal expectations and getting the right resources lined up.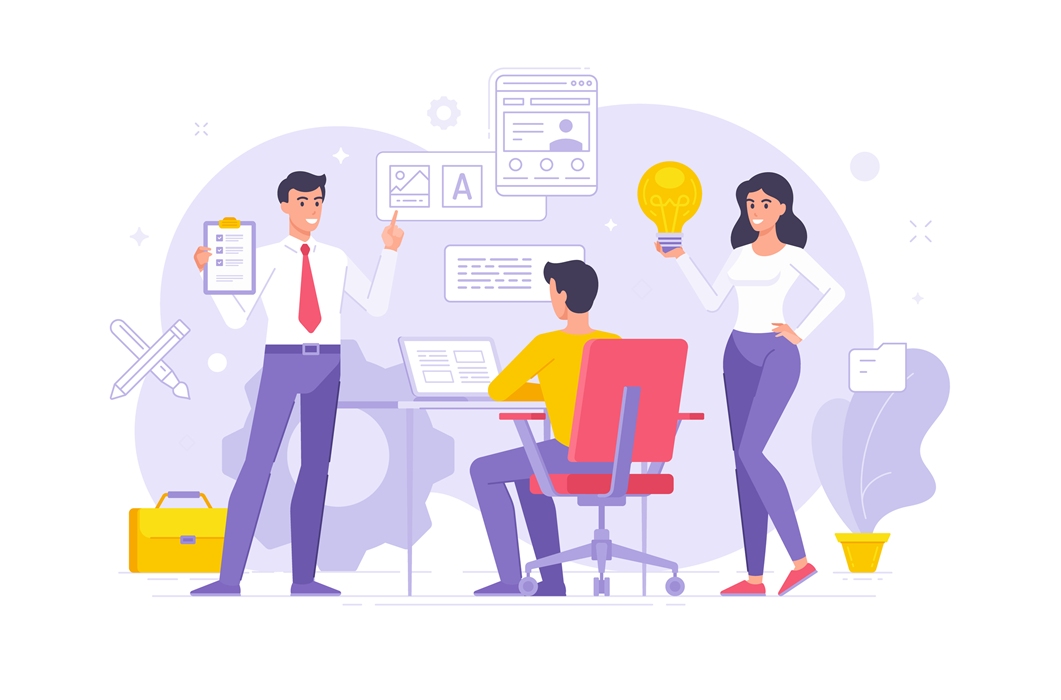 TIP!
Use phase 1 for quick wins. Standard sources generally seamlessly populate the most common views. Users feel like they get a lot out of the gate and that helps tremendously with adoption.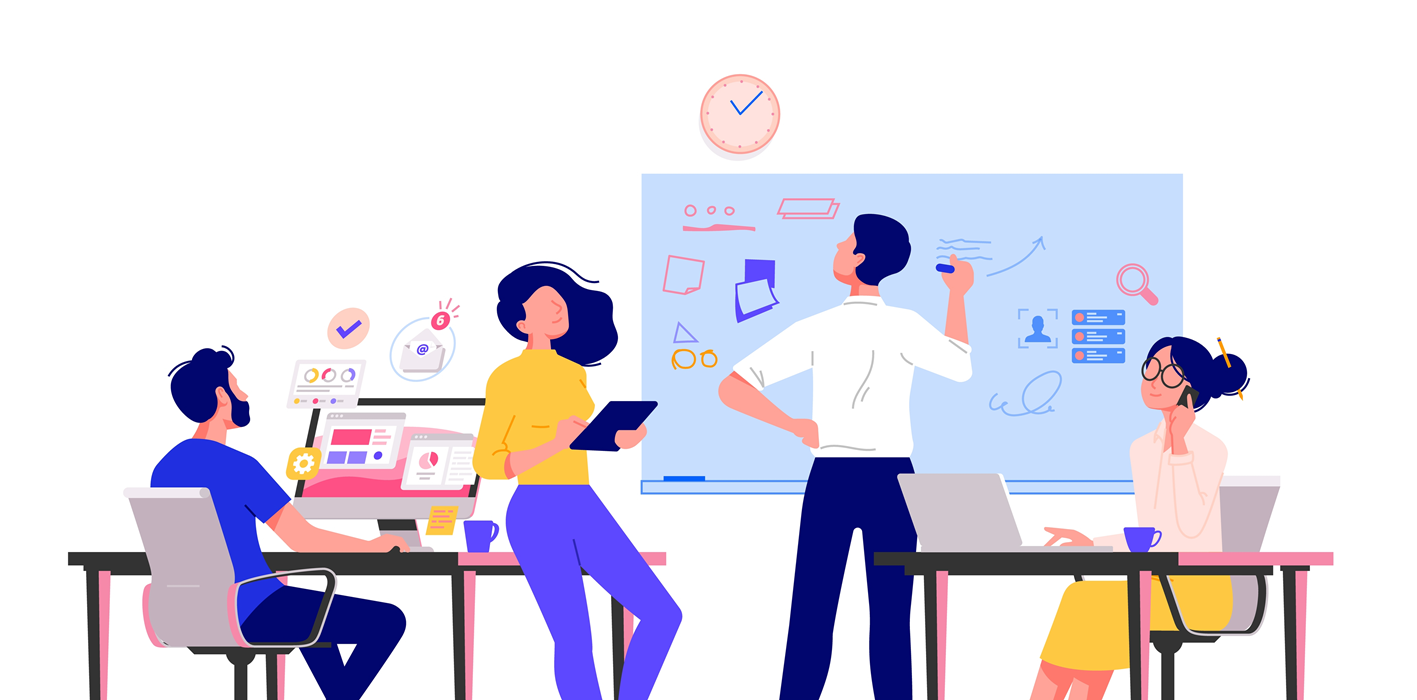 Trending now
Prepare for your health analytics implementation before you buy a thing!